Usually when Christmas comes to mind, the joy and celebration connected with the holiday is paramount for many. For believers, we rejoice in remembering the birth of our Lord and Savior Jesus Christ, yet even those who are not believers still enjoy the warmth and love of family togetherness.
However, in war-torn Ukraine, Christmas this year will come with many serious challenges for believer and unbeliever alike. Despite the ongoing war, our brothers and sisters are intent on pressing ahead with SGA-supported Immanuel's Child outreaches, with their goal always to reach as many children as possible with the life-changing Gospel and the true story of Christmas.
Last year, Immanuel's Child gave a warm Christmas to thousands of Ukrainian children. This year, they plan to give an even more special Christmas to refugee children who are confused, hurting, and in search of normalcy.
Ukrainian Children Come to Christ through Immanuel's Child
In Kiev, missionary pastor Vyacheslav reported last year:
"We were delighted to do a Christmas program along with presenting Immanuel's Child gifts and stars. We were happy to have over 100 children on the Christmas event, especially those 45 children from less privileged families with difficult circumstances living in our church neighborhood. Along with the new kids, we also had 65 adults, with many of whom were new visitors to the church. The children were very thankful to receive a nice Christmas gift: a set of candy, a towel and personal hygiene items, and other goodies."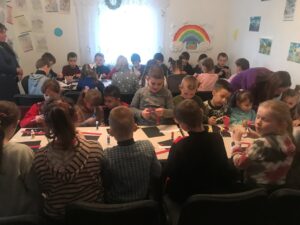 In northwestern Ukraine, missionary pastor Vladimir labors, and he recalls just a year ago when his church celebrated a fruitful Immanuel's Child . . .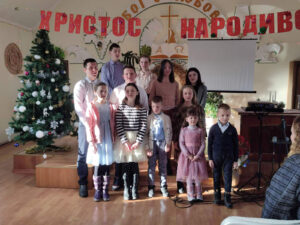 "Our church and the children who received gifts last Christmas send their sincere gratitude for your support and love for us! During the difficult times, we strive to continue reaching children and their parents.
"In fact, 90 percent of the children who later attended our Christmas service for the children were from unbelieving homes and just a simple invitation would not always work. So, the camp was a good stage-setter for our Immanuel's Child outreach. At the Christmas service, we had a good gathering of children and their parents. Those kids who are a part of our Sunday school had their own program, while the children from unbelieving families sang Christmas carols that they learned during the summer camp."
Parents Come to Jesus in Ukraine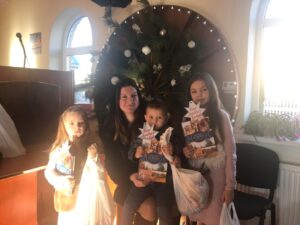 Vladimir shared moving testimonies from parents: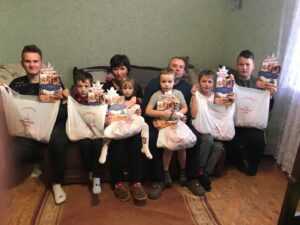 "I am a mother of four. Our older children were in the camp and begged to come to the Christmas service. I asked my neighbor to babysit our little one so that I could come with the older children to the church. I was amazed about how many good things they could teach our children in such a short time. All our older kids want to attend Sunday school, and I will come to church whenever I can. I am sincerely grateful to the Pastor and all those who are involved in making such a celebration!" (Zoya)
"I am so thankful to God for Pastor Vladimir, and for his continual care of our family. Through him, my husband and I heard about Jesus and we came to God, preparing now for baptism. Thank you all for being with us in prayer and all-round help in difficult times." (Oksana)
What Will Happen This Christmas?
Valdimir says, "Our sincere thanks to all SGA partners! May the Lord give you peace, joy and strength in serving in His harvest field!"
As the churches in Ukraine approach this year's Christmas season, please lift them in prayer regularly as they finalize preparations for Immanuel's Child. Pray for their safety and that of the children in the midst of ongoing bombardment. And above all, pray that God will open many hearts to their deep spiritual need, and to trust in Christ as Savior and Lord.