Children and Families See the Rays of God's Sunshine
Valentin K.
SGA-Supported Missionary Pastor in Russia's Altai Region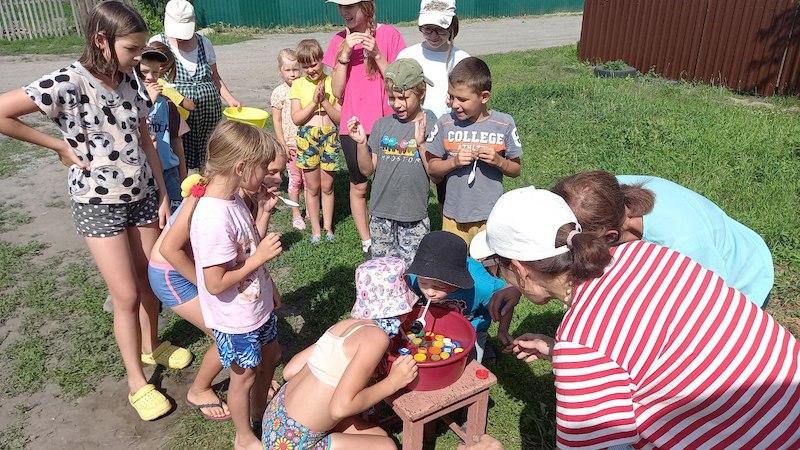 I want to express my special thanks for your support for our summer playgrounds. While praying and planning our ministry, we decided to invite children and their parents to Christian festivities in our church house. Several parents had come together with their children on Easter and Trinity Day. They were pleased to see how their children who attended Sunday school sang songs and recited poems. Two young women attended, and they used to be little girls in the 1990s and were in our Christian camp ministry back then. Now their children attend Sunday school!
As we talked, we offered to organize festivities for children by their homes with games and a biblical lesson.They agreed. So our church organized two meetings by different homes beginning in June. We called the activity "Festivity of the Bee." The children who attend Sunday school invited their friends from unsaved families to come and play games with them. As we taught about wonderful bees and how they collected honey, the children also heard lessons about God Who created the world and the bees. We sang songs about our great God and were treated to different kinds of honey. About 30 children and their parents visited two different playground sessions. We invited the people to organize one more four-day playground, which made the children happy even though we had to postpone the playground until July due to several days of heavy rain.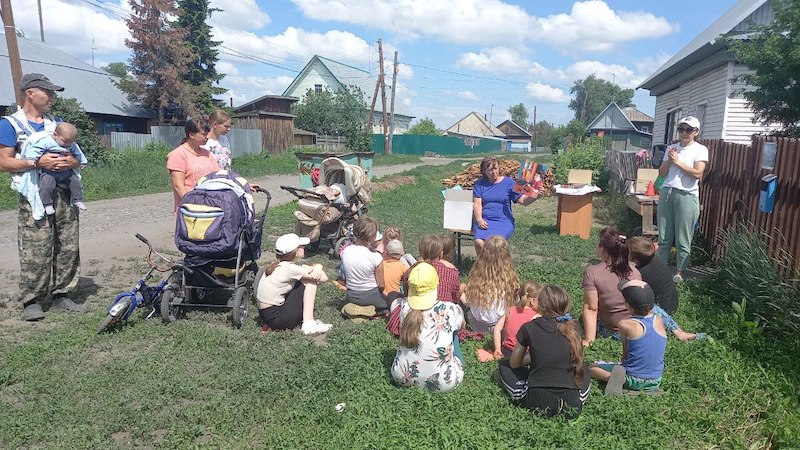 A team from the church in Kemerovo came here to help us with the playgrounds. We had two playgrounds together, with 38 children of different ages playing games, craft lessons, singing songs about God, and listening to biblical truth about Noah, Noah's salvation, and an opportunity to have salvation in Jesus. Some children came together with their parents, who also listened attentively to the biblical lesson. That meant 35-45 adults and children were listening to the truth of Salvation daily! Even the rain and 95 degree heat didn't make a difference.
At the end of the playgrounds, we invited the attendees to the Sunday service. Several children came to the service, and one of the boys invited his mom to come! Children recited the Bible verses that they had memorized in class and sang the songs they learned. Then we had fellowship at the table and saw the team from Kemerovo off. Eugenia was one of the members of the team from Kemerovo. She has completed the rehab course and is going to be baptized. She has a daughter, Julia, of 15. It was her first acquaintance with Christians. We saw that Julia was happy, and on the third day of the program, she began to take an active part in the activities. Eugenia said that when Julia came home, she began to stay with her mom and began to attend church. In such a way, God united a mother and a daughter thanks to their visit to us. Glory be to God for His wonderful deeds! Dear friends, I thank the Lord and you for your support of my ministry.