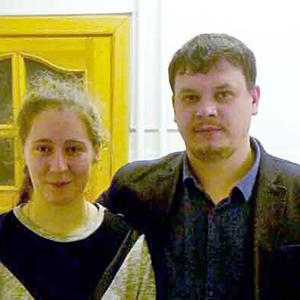 The year 2017 is now behind us, and another fruitful year of ministry to orphan children and orphan graduates. For this report, I'd like to tell you about a boy named Sasha.
We have known Sasha for a long time. He attended our summer camp ministry several times. He visited many of our activities and God changed his heart. Sasha says that the Lord is his Savior, and he desires to live with Him and trust Him. He has now graduated from the orphanage and lives in a dormitory. He continues to stay in touch with us and attends Bible study group. We were amazed and thankful when we learned of his desire to help in the orphan ministry. Today, he assists in ministry with small children in the church. On his own initiative, he has also begun to visit a hospice center. He says that he makes these visits because he wants to share the Gospel with people who are dying soon. The hospice staff is amazed to have such a volunteer. We trust that his ministry will be a good witness about God. We continue to keep him in our prayers, asking the Lord to strengthen his faith and help him to grow spiritually. We do what we can to help Sasha and provide clothing for him.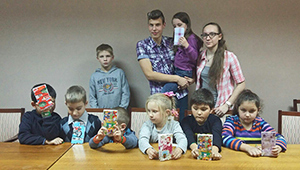 Sasha is not the only one. We are thankful to see more orphan youth being involved in ministry with our teenagers at the church. Some of the orphan graduates live in a home but continue to attend the church. The graduates usually don't have a lot of friends and are often lonely, so they want to send a text message or call someone and receive a call in return. One graduate named Alexandra wrote us about her loneliness and low spirits while she lived in the orphanage, and we encouraged her.
Please join us in praying for the graduates and the younger orphans we visit. We hope that the seeds we planted will grow and lead them to a personal relationship with Christ.