Ministering to children with cancer and their families in Ukraine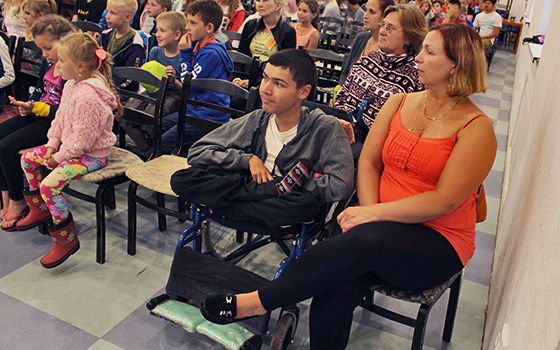 About 150 children with cancer, their parents, and members of their families come to Camp Zemchuzhinka in Ukraine every year. It serves the special needs of families facing medical challenges most families never encounter.
A teenage boy, Kolya Vorobev, has come to Camp Zemchuzhinka with his mother, Natasha, in recent years. He suffered from muscular dystrophy, a terrible side effect of the radiation he received to help treat his cancer. Over time, his internal organs would gradually stop functioning.
The children of Chernobyl, like Kolya, often do not live past their teens, and their lives are difficult at best. Many times their fathers abandon them and their mothers. Such was the case with Kolya, whose father abandoned the family, moved to Russia, and married again.
But in the midst of such heartache and failing health, Kolya would listen carefully to the words of life in his Bible lessons at Camp Zemchuzhinka. He took an active part in group discussions, asking many questions and enjoying times of fellowship with other campers.
After Kolya's condition confined him to a wheelchair, he rarely left his home. He could no longer spend time with his peers, but Kolya studied diligently at home. He enjoyed reading and expressed interest in history and geography.
Due to Kolya's condition and his need for care, his mother couldn't attend church, Bible studies, or other church activities. She said that she spent every day with her son … never knowing if that day would be his last.
The only opportunities Kolya had to spend time in fellowship with other believers outside of his home were during short summertime visits to Camp Zemchuzhinka, as well as to Christmas, Easter service, and other special events at the camp. The family rejoiced for all of these opportunities!
Kolya was surrounded with love and care by mentors at camp. They helped him take part in all of the activities, including Bible lessons, sports, and crafts. Kolya spent a lot of time with his friend and Bible teacher. He shared his thoughts, concerns, dreams and plans for the future — wanting to receive a good education and earn an income to provide for himself and family.
Though his health continued to worsen, Kolya always returned to camp. He expressed his thoughts about eternity and God and confessed he couldn't comprehend all of these truths. When he fell ill at camp, a group of doctors was quickly called in. They saved his life.
Every day at camp, Kolya listened to the Gospel, heard about Christ's love, and discovered that heaven was real. He spent his time with mentors and asked many questions, listening carefully to their answers.
And on the last day he would spend at Camp Zemchuzhinka, Kolya whispered something in his friend and mentor's ear…
"Sasha, I love God."
Only one week later, Kolya passed away. But as we consider his parting words, we hold on to the hope of meeting him again one day in heaven. And we praise God for the opportunity to share the love of Christ — and words of life — with this hurting boy and his mother through the outreach of Camp Zemchuzhinka.