The volume of praise reports we have received in recent weeks reflects the impact of the generosity of faithful friends like you — and the work of God in these challenging days! Where the world only sees loss in the ongoing war in Ukraine, we can see heavenly gain as the Kingdom of Heaven advances in the face of the harshest of opposition. Be encouraged in this day.
Here are two more short reports from SGA-supported pastors in Ukraine whose churches received generators through our Ukraine Heat and Hope Campaign. With this power, both congregations are able to continue their ministry this winter to IDPs (internally displaced persons). May God be glorified and praised!
Oleg:
From the very beginning of the war, [our church] became involved in social and spiritual assistance to IDPs [internally displaced persons]. During the first two months of the war, in March and April 2022, our church mainly served people who were traveling through Kremenchuk to western Ukraine, providing them with accommodation, food, and clothing. In the summer of 2022, we began to serve refugees who had settled temporarily in [this city]. Our ministry consisted of constant food distribution and distribution of Christian literature. Each time we invited refugees to the hall for worship, we preached the Gospel before distributing food.

In the fall of 2022, our church changed the format of our work with refugees. We have created five church teams, each of which has started serving people every evening from Monday to Friday. During these evenings, we study the Word of God with people and at the end of the evening, we distribute small food packages.

Due to the war and damage to the energy infrastructure in Ukraine, the city is now experiencing regular power outages, making it impossible to hold events with refugees. The church is very grateful to the brothers and sisters from abroad who donated funds for the generator. This gives us the opportunity to serve 200 refugees every Sunday, who regularly come to Bible study in the evenings. Thank you so much for the generator!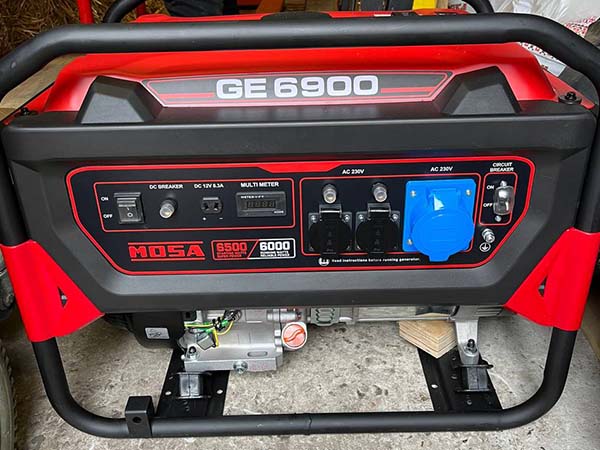 Victor:
From the very beginning of the war, [our church] was actively involved in the ministry of IDPs. In the most challenging periods, up to 50 people have lived on its territory. The church regularly holds various evangelistic events for IDPs. Now there is a regular group for teenagers and several groups with adults. We have also started a second worship service for IDPs, which smoothly turns into a cafe. Each week we have about 160 new people. A huge problem we faced was power cut-offs. In our case, it also affected the heating. Such instability always has a very negative impact on the quality and stability of the church activities.


Thank you dear friends at SGA and our sponsors for this wonderful generator, our life has improved in terms of energy supply. We are sincerely grateful to everyone who took care of us, for your support and sacrifice.

Praise the Lord!
In a time of great uncertainty, God is bringing help, healing, and hope to the people of Ukraine through SGA-supported pastors, churches, a seminary, and SGA-sponsored Compassion Ministry. Be a part of God's incredible work with your generosity and prayer support.
Your gift of compassion helps struggling people with emergency aid that generally includes Scripture materials, food, medicine, warm clothing, and shoes.