Anatoly Sedogin
SGA-Sponsored Missionary Pastor in Usman, Russia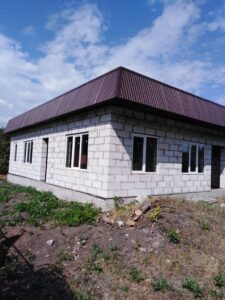 I greet you, dear friends in the Lord! Despite the COVID-19 pandemic, we have been able to come together for worship while observing the necessary measures to protect health.
One of our sisters in the Usman church gave her unfinished house to the church as a gift. There are several Christian families in the village, and we held the first worship service with them in July. We prayed, asking the Lord to bless the construction that would now take place, and He did! We began cutting grass and cleaning up garbage. We also invited local believers to take part in fundraising for the church construction. Progress has been made and Bible studies are now being held there. We also held a baptism service, with eight people publicly declaring their faith in Christ and a celebration afterward.
Together with other church members, I visited the town of Dankov where the church was celebrating 50 years of ministry. Then in Yelets, the church there was celebrating 100 years of ministry, and Baptist Union president Dr. Piotr Mitskevich joined me in the celebrations, with many prayers and joyful songs being sung. Then back in Usman, we celebrated our Harvest Day by baptizing more new believers and sharing our testimonies at the worship service. I also organized a men's meeting in Bolshaya-Kuzminka, where we held a night prayer service and asked the Lord to help us be faithful witnesses in word and deed.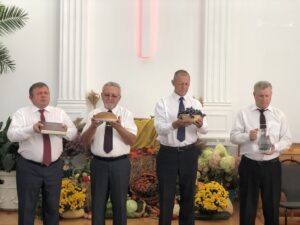 Ministry to needy families impacted by the pandemic was not forgotten, and we gave out food parcels to them, along with New Testaments and sharing the Gospel. We invited them to our church services in the days ahead. In addition to all of this, I visited Dankov, Lipetsk, Leo-Tolstoy, Khlevnoye, Yelets, and Gryazi, where another baptism service was held. Please continue to pray for me and my family, for God's protection from the pandemic, and that God will raise up new workers here to help in the ministry. Pray also for church construction in Chaplygin and Golovchino, where funds are needed. I want to thank you for your support of my ministry!