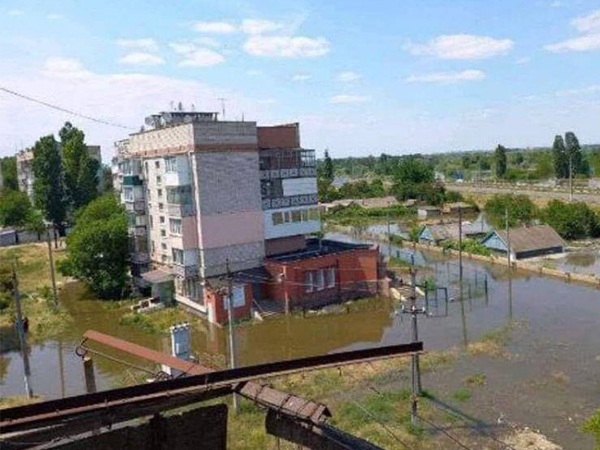 The story below comes once again from our team member, Oleksandra. She continues to gather stories from the war-stricken land of Ukraine, but here Oleksandra shares her own heartache and all that she is experiencing in the midst of the chaos of war. As she and many Ukrainians try to make sense of what "good" might come from this, she is reminding herself and others to remain faithful and trust in God's sovereignty. He has already and will continue to show Himself as a great light in the evil of darkness.
Please continue to pray for Ukraine and for the many who have been greatly impacted by the catastrophes that have taken a huge toll on the people—including the destruction of the Nova Kakhovka dam and subsequent flooding of the Dnipro River and the aftermath. From Oleksandra . . .
Seeing God's faithfulness in the catastrophes

On Tuesday, June 6th, we were shaken by the horrifying news of the Nova Kakhovka dam collapse, resulting from a powerful explosion. The dam held approximately 4.3 cubic miles of water, equivalent to the volume of Utah's Great Salt Lake. The bursting of the dam sent a wall of water, flooding numerous towns on both sides of the Dnipro River. As a result, 80 towns and villages along the river were submerged, leaving the residents without essential services, displacing thousands of people, and increasing the risk of disease and pollution. In addition to the devastating flooding, the river became contaminated with 150 tons of industrial lubricant, and agricultural land was washed away. The images appearing on social media and news platforms that day were heartbreaking. They depicted villages submerged, desperate people stranded on rooftops pleading for help, and animals struggling to survive in the water.  

The impact of this catastrophe left us speechless and deeply affected. The extent of the damage inflicted upon our land and the loss of countless lives weighed heavily on our hearts. I remember writing to my friend two days later, trying to express my emotions: "… the news about the dam breaking has been really frustrating. It's made me speechless more than anything else. I wanted to message you or send a voice message, but every time I tried, I couldn't stop crying.

"The damage caused by the flooding is really terrible. Whole towns and thousands of houses have been destroyed, and it's had a big impact on the environment. My heart hurts so much. I've never seen anything like this in my life. The scale of the consequences is terrifying. Whole towns went under the water. Thousands of houses will never be restored. So many lives are in danger. I can't stop thinking about the elderly people who were trapped in the area that got flooded because the Ukrainian volunteers couldn't reach them in places that are under the opposition's control now. Keep praying for us and that God turns everything for good."

As I wrote this last sentence, I had no idea that Romans 8:28 would become my verse for the month. I found myself looking at all the pictures from the affected area and questioning how any good could come from such a devastating event. But to witness God's work in the midst of the most challenging situations, we have to be patient. Sometimes, the miracles don't unfold immediately; however, the Lord demonstrated His power soon. First, we experienced a week of intense heat, with temperatures rising to abnormal heights for our country. This accelerated the drying process in the flooded areas, facilitating the efforts of volunteers, who were able to reach people deprived of water and food supplies and evacuate those who were trapped in the buildings.

Two weeks later, during a Sunday service at our church, our team of volunteers shared their experiences of visiting the affected region and providing humanitarian aid. They shared a heartfelt message:

"Many families who have lost almost everything expressed their gratitude not only for the food, water, and financial assistance but for something even more essential. According to their words, they received a sense of hope—a message that had been absent from their lives for far too long. Those people appreciated the fact that there are those who can make the journey across the country to share the Good News with them, and it turned out to be the most significant gift for them. After enduring years without hope, it now feels like the only thing they truly need."

"People were touched to learn that many Christians were praying for them and serving them in practical ways. The war and then a new catastrophe had turned their lives into darkness, but the darker the sky, the brighter Jesus shines within it. This reminded me of Isaiah 9:2: The people who walked in darkness have seen a great light; those who dwelt in a land of deep darkness, on them has light shined.

"Indeed, God possesses the power and wisdom to transform any situation for the better. May He teach me to place even greater trust in Him."

Upon hearing this testimony, peace was restored in my heart. I learned yet another crucial lesson from my Savior: miracles are not preceded by faith; rather, faith precedes the miracle.
---
In a time of great uncertainty, God is bringing help, healing, and hope to the people of Ukraine through SGA-supported pastors, churches, a seminary, and SGA-sponsored Compassion Ministry. Be a part of God's incredible work with your generosity and prayer support.
Your gift of compassion helps struggling people with emergency aid that generally includes Scripture materials, food, medicine, warm clothing, and shoes.