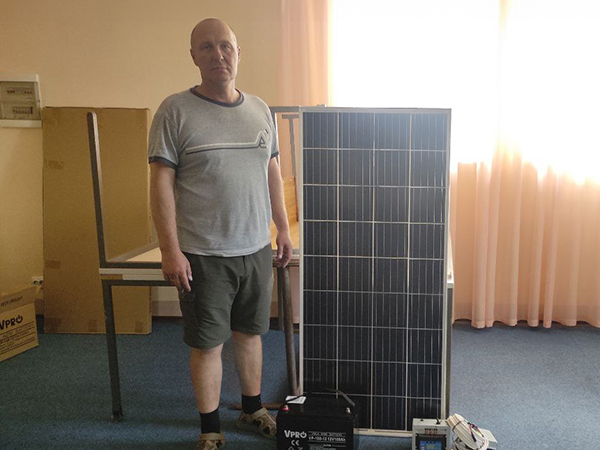 For pastors who remain behind in Ukraine on the edges of the conflict, their needs are great — and increasing. With this simple report and video from a pastor on the frontlines, Pastor Andrei humbly shares his gratitude for SGA and supporters like you who've helped provide him and his congregation with an essential solar panel for his church. Yet he and his team are also asking for 15 more units. As the situation for their community worsens, the need increases every day. From Andrei, we know that your generosity is making a huge difference in the lives of those suffering in Ukraine for the sake of the Gospel.
Dear brothers and sisters!

My name is Andrei. I am a pastor in Ukraine. We are sincerely grateful to SGA that you've donated such a wonderful solar panel for our church. This is for people who do not have power at their homes, so they can come here for power, for charging their devices. We are sincerely grateful to all of you for your partnership, for your care, for your prayers, for having generous hearts and kind hands. May God bless you all! Thank you for everything!

-Pastor Andrei
In a time of great uncertainty, God is bringing help, healing, and hope to the people of Ukraine through SGA-supported pastors, churches, a seminary, and SGA-sponsored Compassion Ministry. Be a part of God's incredible work with your generosity and prayer support.
Your gift of compassion helps struggling people with emergency aid that generally includes Scripture materials, food, medicine, warm clothing, and shoes.