Editor's Note: The images below were provided by an SGA-supported pastor in Ukraine.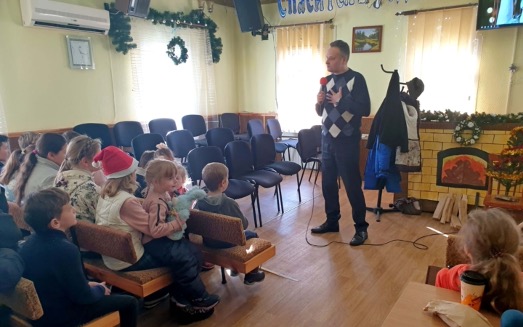 When life begins to be overwhelming and trials come, when all seems to be falling apart, we can question our choices and confidence in God's leading. But what if the storms of life are exactly where God would have you be?
The Apostle Paul often was in the midst of hardship when he was exactly where God would have him (planting the church in Philippi). In fact, the harder the times, the more brightly his declaration of the Gospel shone. So imagine you are in Ukraine, the missiles and bombs are falling and fear consumes you. What would you do? Would you flee, or would you pray and hold fast?
Be challenged by the following excerpt from a recent report and images sent by SGA-supported Pastor Evgeny and his church who remain in Ukraine. As the war continues, they continue to seek God's Word and submit to God's leading . . .
I thank God immensely for the fact that, by His grace, we are still alive and can be useful to Him here on Earth, and I am glad that I can still write to you.
During the three weeks of the war in Kharkov, more than 600 houses were destroyed, and these are mostly apartment buildings. And today, when a month has passed since the beginning of the war, more than 1,000 houses have been destroyed.
For the first week since the beginning of the war, we lived in our house. But after they started bombing our area of ​​the city from planes at night, we were forced to leave. Airplane bombing is really scary especially when you hear the growing sound of an approaching plane and after a few seconds there are explosions shaking everything around, when the house shudders to the ground. And each next approaching plane involuntarily makes you prepare for death by praying for the children who cuddle up to you and each pray out loud that the bomb does not hit us. It's horrible.
At first we wanted, like everyone else, to go abroad, to Poland or Germany, in order to save our children. We were even invited by our friends to Germany. But even in this terrible time, more than ever, I prayed to the Lord to guide me and let me know what to do, where to run. Usually God spoke to me through His Word. And at this time, various brothers from western Ukraine began to call me, from abroad from Poland and Germany, saying "leave, save your family".
I began to ask God: Lord, are you speaking through your brothers or are they speaking of themselves? And this morning, reading the Scriptures, I see the Word: "I have set before you an open door…" (Rev. 3:8), with which God touched my heart. And we decided to leave. We got into the car and drove off. The flow of cars was such that 20 km we drove for over two hours. But near [a Ukrainian city], where the Church where I am a pastor is located, our car began to stall, and lights on the instrument panel began to light up, indicating critical malfunctions in the car. It happened not far from the turnoff from the highway to [the city], where I am a pastor. I began to pray that the car in this stream would not completely stall, and that we could at least get to [the city]. And God heard us and despite the malfunctions were able to get to our church in [the city].
We were hosted by one family of our church members, with whom we lived for more than a week. Then one family from our church that left offered us their house, so that we could live in it if necessary. And we took advantage of their offer, God bless them! I also asked the Lord why we could not leave, but ended up here? Reading the Scriptures, I saw the same thing in different texts of the Bible at this time:
"In returning and rest you shall be saved;"
(Isaiah 30:2,3,15,16)

"For thus said the Lord God, the Holy One of Israel, "In returning and rest you shall be saved; in quietness and in trust shall be your strength." But you were unwilling,"
(Isaiah 30:15)

"Because they do not regard the works of the Lord or the work of his hands, he will tear them down and build them up no more. Blessed be the Lord! For he has heard the voice of my pleas for mercy. The Lord is my strength and my shield; in him my heart trusts, and I am helped; my heart exults, and with my song I give thanks to him."
(Psalm 28:5-7)

"I will instruct you and teach you in the way you should go; I will counsel you with my eye upon you." (Psalm 32:8)
And in all these texts, I saw that it was the Lord who brought us here. And when we came to church on Sunday and saw that half of the church had left, and those, who could not leave, remained, the weakest, the most needy. We realized that now we have to stay here. Moreover, it is much quieter here than in [another Ukrainian city], although bombs sometimes get here, too. and at some of our neighbors the explosions destroyed roof, fence or windows.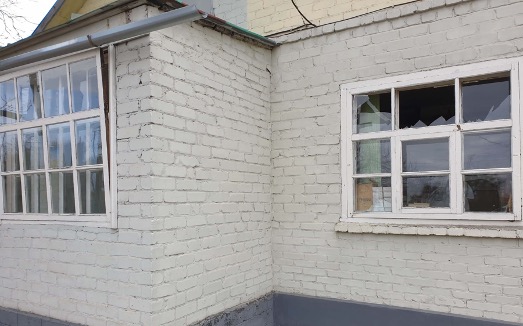 Recently, not far from our House of Prayer, two rockets hit residential buildings and destroyed an entire alley. There was a very strong blast wave. So strong that it knocked out several windows in our House of Prayer, even the plastic one turned out and all the doors opened (the wooden and iron ones in the Sunday school house were torn apart). I thank God for the deacon brothers, who immediately arrived and what we could repair we repaired and the rest was put in order.
The blast wave was so strong that it even got to the house where we live and knocked out several windows and tore off two slates. And we live about 1 km from the epicenter of the explosion. But my sons and our deacon and I have already repaired everything. Thanks God.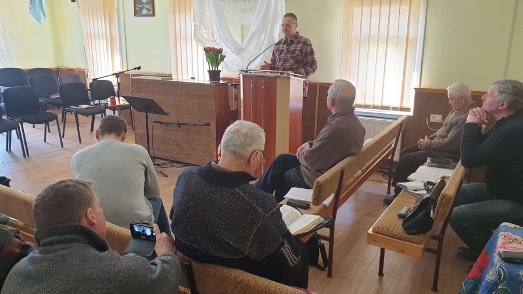 We pray much more now than before the war. We have meetings three times a week. Twice — prayer meetings, and on Sunday the usual meeting of worship and glorification of the Lord.
In addition, we are now serving others, those in need, by distributing food packages that we bring from other churches and cities. Recently we went to a city, where brothers from [a Ukrainian region] brought food to us. Many local people, for various reasons, cannot come for groceries themselves, and we deliver food to their homes.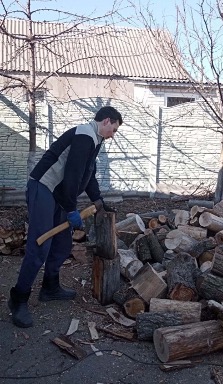 We also help as much as we can — for example, my sons cut wood for those, who do not have gas supply. Also, our brothers go to [a different Ukrainian region] (the shooting is less there) for medicines that people order, and we serve them with this.
That's all for now. We do not know what awaits us tomorrow. But if we are alive and it is the will of God, then soon we will again let you know about how we live and serve our Lord in our difficult circumstances.
In conclusion, we want to congratulate you on the bright holiday of Christ's Resurrection. For us, this holiday and this news is especially precious, because death for us can come instantly (when they fire rockets, the explosion happens so quickly that you don't even have time to figure out what happened). And the news of the Resurrection of our Lord Jesus Christ and the hope of the Resurrection of our bodies gives peace to the heart and removes all fear of death.
"Since we have the same spirit of faith according to what has been written, "I believed, and so I spoke," we also believe, and so we also speak, knowing that he who raised the Lord Jesus will raise us also with Jesus and bring us with you into his presence." (2 Corinthians 4:13-14)
Glory to Jesus Christ. And thank you for your faithfulness to God and love for us. May the Lord reward you many times over for your kindness and generosity that you show to us.
With gratitude,
Pastor Evgeny and family
In a time of great uncertainty, God is bringing help, healing, and hope to the people of Ukraine through SGA-supported pastors, churches, a seminary, and SGA-sponsored Compassion Ministry. Be a part of God's incredible work with your generosity and prayer support.
Your gift of compassion helps struggling people with emergency aid that generally includes Scripture materials, food, medicine, warm clothing, and shoes.