A report from SGA's Eric Mock from Sakhalin Island in Far East Russia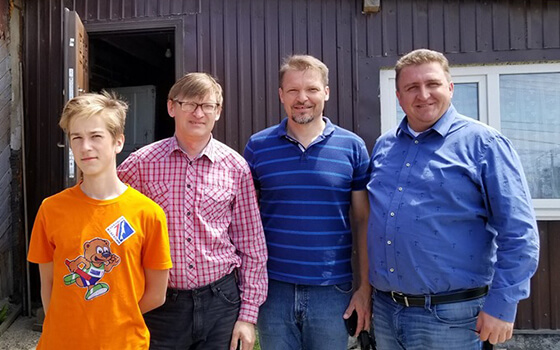 Russia's Sakhalin Island is not in the news very much these days. Older people may remember the tragic 1983 incident when a Korean Air Lines passenger jet was shot down by mistake over Sakhalin. The island is remote, and the weather can be formidable.
Yet as SGA's Eric Mock observed after a visit there, there is a bountiful spiritual harvest waiting to be gathered — a situation that our Reach Russia Now initiative was conceived to address.
"The island itself is beautiful, filled with many international oil workers, and it's a wide open field for the Gospel. Yet the churches here feel isolated and forgotten. By God's grace, we can let them know they are not alone.
On Sakhalin Island, there are only 280 Baptist church members spread out among six churches. Only two have buildings. One day we traveled to Kholmsk. There are 40,000 people at this famous seaport. The buildings are worn and weathered, and the economy is weak. It seems a place that time mostly forgot. But God did not forget. There is a tiny congregation of six believers who have been meeting. The community desperately needs the light of the Gospel, and this small church needs a pastor. But who will go?
Pastor Alexei Zanin asks that we would pray that God raises up a faithful servant to shepherd this small church and to reach this city. Through Reach Russia Now, we can help them reach this city, but first we must pray to the Lord of the harvest to send out laborers — even just one. (Matt 9:36-38)."
We are thankful that we were able to send Eric to encourage this small group of believers who want to see their region won to saving faith in Christ. Sakhalin is a powerful illustration of what Reach Russia Now is all about. Far East Russia is a vast region, with numerous small villages scattered among the larger towns. Some places are very isolated, and due to the terrain and lack of development, only accessible by air except in winter, when snowmobiles and small cars can travel over frozen rivers.
Please join us in prayer for these believers, and for the resources needed to help them take the Gospel to all who yet need to hear!