Last month marked one year from the onset of a horrendous war for Ukraine . . . a day that will be remembered as an "incomparable terror attack." However, as you see in the story below, God has raised up so many faithful people to minister and serve beyond compare.
From that horrible day one year ago, to today, we continue to see how God is using this time and His people to bring many to Himself. He is raising people up from all around the world to meet the needs of those who have been greatly impacted and torn from their previous lives. Please don't miss the thankfulness that is expressed throughout these testimonies.
Our storyteller Oleksandra traveled this past week to visit another volunteer center to capture the stories of those being ministered to through SGA-supported Compassion Ministry. Here are the stories she encountered . . .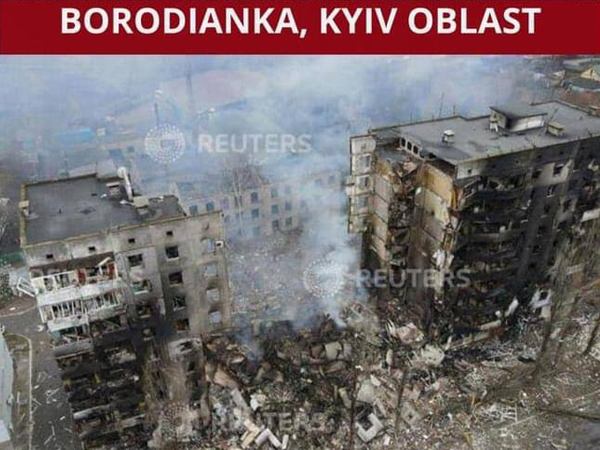 The ruins of Borodianka in Kyiv Oblast are the most recognizable scenes of Russian terror in Ukraine. In the first three days of March 2022, Borodianka survived four air raids. The Russian military dropped dozens of bombs on seven high-rise buildings on Tsentralna Street. The explosions were so powerful that they destroyed half a house, and people hiding in basements were torn to pieces or buried alive. I saw this building when we were coming back home in June 2022 after having been evacuated. But I never thought I would have an opportunity to talk to people who were there when it happened. We visited [a local SGA-supported church] and met women who survived an incomparable terror attack.
The first woman who met me at the entrance was Lyudmila.
"I was hiding in the basement with other citizens when they dropped the bomb on that building. We knew we couldn't leave our shelter, but all I wanted is to go out and run to my house. I was afraid to lose it with all the memories it held. The worst thing to hear was not bombing, but children crying days and nights. There were many women with babies in the shelter," says Lyudmila with tears in her eyes. "When the fire ceased on the fourth day, I ran to my apartment. The doors were blown off their hinges, the windows were broken. I couldn't believe my eyes. I tried to find the most valuable things for me before evacuating from the town. They were our family pictures. I couldn't take anything else with me. There was no time to pack. I didn't know whether I would see my house or even my town again, which was being wiped out." Her son came to evacuate her to another region where she stayed for two months.
When she came back to Borodianka after de-occupation, she couldn't help crying. The town was burnt. The smell of gunpowder was still in the air. Every other building was shelled. "I was going along the street, and I couldn't hold back my tears. My town became a ghost. I didn't see any signs of life. I was hungry but I wasn't sure the food distribution was restored. Many groceries stores were still closed. I went to the store I would usually go. It was closed, but in front of it, there was a tent. A man next to it waved to me. I came up. He was a pastor of the Irpen Church. They brought some humanitarian aid for us. The pastor wanted to ask what help I needed. But he saw my red eyes and asked gently: How are you? I broke into tears and then he said: Let me give you a hug. At that moment I realized it was the only thing I needed. That day changed my life. I visited the volunteer center every day. Those people gave us love, comfort, and hope. They showed me Jesus who changed my life," she said smiling.
I took a picture of her before she went to prepare some tea for the people who were coming. "Let me hug you," she added. "Now it's my favorite thing to do." Jesus changed Lyudmila's life completely. He took away her tears and gave her joy. He showed her hope in the midst of suffering. She became a follower of Jesus Christ and started serving others by sharing God's love with them.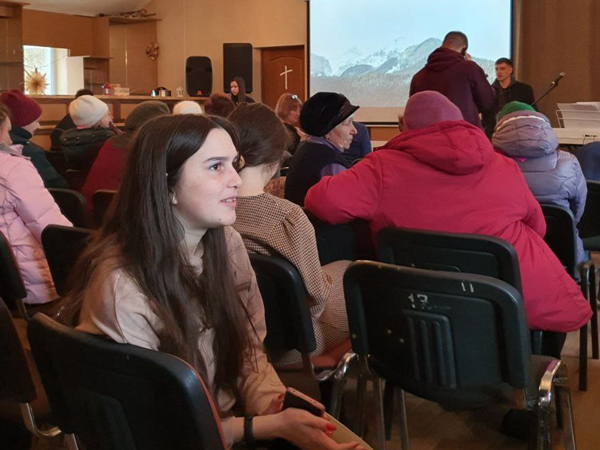 Olya
Then I saw a young girl who helped Lyudmila to prepare tea. Her name is Olya. She told me that it all started from a little tent with humanitarian aid in front of the shop which grew into a little church. We don't see any food being distributed today. It's Sunday. People come to Sunday services. They want to listen to God's Word. They still need comfort and hope for the future. Olya has been in a camp organized by volunteers in the summer. She noticed those people are somehow different from others. They were shining from the inside out. "I wanted to know where this light was coming from. I'm still on my way. I don't miss any opportunity to be with these people. They are showing me an example of how to serve others. I want to be like them. I start with little things, like making tea for old ladies. But it makes me happy. I hope one day I will have this same light shining through me."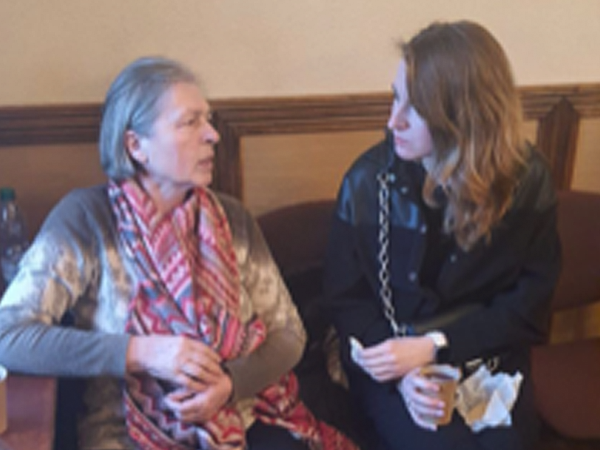 Lyubov
Despite all the terrifying signs of occupation, many Borodianka residents have already returned home and are rebuilding their lives. Lyubov is a Christian. She found her church closed when she came back home after the Ukrainian army entered Borodianka on April 1, followed by rescuers. "I didn't know where to go," remembers Lyubov. "I knew I would starve spiritually without fellowship. I prayed God showed me whether to stay in my town or to move. Then I heard about Christian volunteers coming to Borodianka. First, residents were helped with humanitarian aid: food, hygiene products, and baby food. Now, the volunteer center has transformed into a big Bible study group or a little church. I don't even know how many people are behind this ministry. There are a lot of things somebody pays for: logistics costs (the team of volunteers makes long trips a few times a week), rent, generator, tea, snacks, and bread that is being distributed during the week. I want to thank all these people whose hearts are open to serve us."
Many people still find it difficult to understand Scripture. They listen carefully to the preacher and don't miss an opportunity to ask their question during the tea time.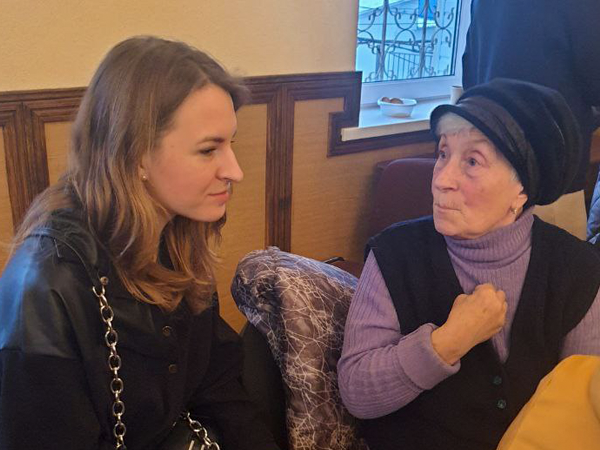 Irina
"I can't completely understand what it means to follow Jesus," confesses Irina. "Is it not enough to believe God exists and say prayers?" I tell her my story. I explain the difference between living for yourself and for God. I told how my life changed when I let Jesus reign in my heart. How He took away selfishness, arrogance, self-confidence, and rudeness and replaced that with love, compassion, humility, and gentleness. Once you become a follower of Jesus, you become His reflection. Your thoughts, feeling and actions change. "What do you see when you look at all these volunteers over here?" I ask her. "Oh, these young people are very special! They are not like other volunteers sent by authorities to us. The others didn't care much. They gave us aid and let us go. Honestly speaking, old people are not needed. Nobody cares about us. Nobody enjoys spending time talking with an old, retired woman. We are worthless. But these people made us feel loved and worthy."
"That's because Jesus lives in them. They reflect Him. And He loves you and in His eyes you are valuable." I explain. "Telling the truth, I can't imagine my life without this center. It is everything to me now. And I love these volunteers. I don't even want to think what we will do if they stop coming. First, they didn't let us die physically when we were starving. Not local authorities, but these Christians were the first who gave us food. And after that, they continued serving us spiritual food. I praise God for them."
–––
In a time of great uncertainty, God is bringing help, healing, and hope to the people of Ukraine through SGA-supported pastors, churches, a seminary, and SGA-sponsored Compassion Ministry. Be a part of God's incredible work with your generosity and prayer support.
Your gift of compassion helps struggling people with emergency aid that generally includes Scripture materials, food, medicine, warm clothing, and shoes.