Editor's Note: The images and report below were provided by two SGA-supported churches in Ukraine.
Since the war began in Ukraine earlier this year, we have received an abundance of stories with heart break and suffering. But there is purpose in the pain as we see God revealing Himself and leading hurting Ukrainians to His Son.
Here are two more examples of how your faithful gifts and prayers are equipping SGA-supported churches and pastors to meet physical needs with food, shelter, and other emergency aid — which opens the door for the Gospel. God is at work through your partnership and the churches that together we serve . . .
Dear brothers and sisters,

Grace and peace to you, from our Lord and Savior Jesus Christ!

Two teams participated in this ministry: the "Living Word" church (Pastor Andrey) and the "New Life" church (Pastor Sergey). We spent the funds on the purchase of the groceries and for the hygienic goods which were given to the IDPs. We have helped the families with 73 adults and 70 children.

From the very beginning of the war our churches and families have been receiving people, whom everyone later began to call "forced migrants," in the premises of the church and in our homes.

For the first two weeks, every week both Sergei's and our family received from 5 to 15 people at home. There were a lot of little children among them. From 6 to 30 people could stay in the premises of the church.

Basically, those were both believers and non-believers. Then their friends and acquaintances, whom we had not known before, but the Lord introduced us in this way, came to us too. In total, during these four weeks of those sad events, more than 170 people passed through our church. The IDPs [internally displaced persons] stayed in our homes, in the premises of the church, in the homes of our members. Even some of our neighbors opened their homes to such people.

In addition to transit travelers, we also try to help those people who've come to the city to settle here for a while. They are from other large cities of Ukraine. They are the people who are fleeing the war, but are unable to go further. Many people decided to stop without going further.

So, the other day brother Sergei met a young woman, Valentina.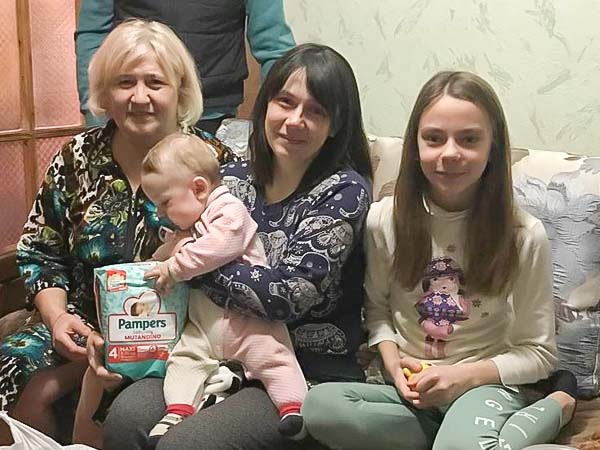 Valentina is 30 years old. She is the mother of two children: daughter Veronika (10 years old) and son Vladyslav (7 months old). They were forced to leave their hometown due to heavy shelling. Valentina's family found their city in a very difficult situation: the buildings were constantly bombarded with missiles. A young woman says that the school and the kindergarten in their area have already been destroyed, as well as some houses, there was no water and heating, almost all the grocery shops were closed. Valentina left with the children, and her husband stayed at home to watch over their apartment.

Currently, it is very problematic to leave occupied cities, because of the constant shelling and because of the absence of green corridors. You have to drive on country roads. With God's help, they reached here and settled at Olga's home (under the state support program for forced migrants). As our church has maintained good relations with the municipal authorities, we learned about this family and visited them the other day. We gave them food products, children's toys, stationery, hygiene items, and Christian literature. Sergei's daughter Marina had a little chat with Valentina and her daughter Veronika. We ask you to pray for such families. There are hundreds of thousands of such families in Ukraine today.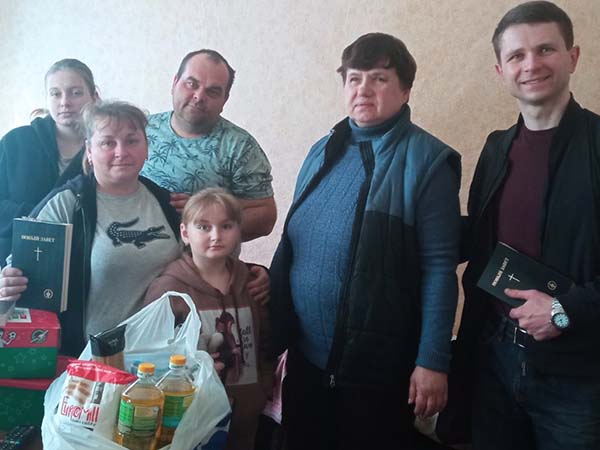 I, Andrei, and our church team visited several needy families last week. There was a family from Mariupol among them.

The family consists of husband Igor, wife Lyuba and their children Sonia (12) and Svitlanka (9). We learned about this family from Valentina, a deputy director of the Ukrainian Society of the Blind. She is also a member of our church. When we arrived to cheer this family up, we could only imagine the horror they had to endure. They hid in basements at night for about two weeks. There was nothing to eat. Their home was destroyed by a rocket fired into their house. Praise God they weren't there at that moment! They were in a neighboring house, with their relatives. They said that they were making honest money and had recently renovated their home and everything was destroyed . . . these people felt desperation, stress, fear . . . when they were sharing their story.

Igor had a van. He agreed with the Ukrainian military that they would help them to leave. Igor and Lyuba took a woman and her son, who was diagnosed with cerebral palsy, and two other elderly people with them. Their van came under fire, but they were under protection of the Ukrainian military and they broke through. They were very scared.

For almost an hour we did nothing but were listening to them. Lots of negativity, injustice, and inhumanity that had accumulated in their hearts had to be poured out and they wanted to tell someone about that. We listened very carefully to Igor and Lyuba, and the children, who also told about "the hell" [in the city they had come from]. They told that they were worried about their relatives and friends who remained there.

We gave this family two grocery bags because they arrived without any belongings. We pointed out that it was God's mercy that they were still alive. We prayed for them and their relatives, hugged and cried together. We said that we attended the church, shared the Gospel, and invited them to the Sunday service and to the home group. We have been praying for this family and are going to continue to support them.

From the bottom of the hearts, our churches express sincere gratitude to everyone who have supported us prayerfully and financially during this difficult time for all Ukraine. We pray God to stop this war and bless everyone with His Peace and Grace! We pray that through this care and aid on our part, the Merciful God Jesus Christ will reveal Himself to people, so that they will seek Him and find Him as a Personal Savior and Lord! Glory and praises be to Him for everything!

May God richly bless you in His mighty ways!

In His service,

Andrei and the team
***
In a time of great uncertainty, God is bringing help, healing, and hope to the people of Ukraine through SGA-supported pastors, churches, a seminary, and SGA-sponsored Compassion Ministry. Be a part of God's incredible work with your generosity and prayer support.
Your gift of compassion helps struggling people with emergency aid that generally includes Scripture materials, food, medicine, warm clothing, and shoes.