Here is an uplifting report from churches in Ukraine that recently received SGA-supported food aid from Poland. We thank God for equipping these saints to persevere during the war and continue showing the love of Christ and sharing the Gospel.
As you will read, our brothers and sisters in the Lord are grateful for believers like you—those who do not stand aside. You have covered their efforts in fervent prayer and generously supported their outreach to meet physical and spiritual needs.
Through Him, then, let us continually offer up a sacrifice of praise to God, that is, the fruit of lips that give thanks to His name. And do not neglect doing good and sharing for with such sacrifices God is pleased (Hebrews 13:15-16).
Church #1
Greetings dear brothers and sisters in Jesus Christ!
Due to the hostilities in Ukraine, many refugees have moved to our area over this year and needed help. Being forced to leave almost all of their belongings at home, people came without clothes, shelter or food, without medicines, and most importantly, without confidence in the future.
Seeing this need in society, our church, like many others, did not hesitate to help such needy people. During the war, the local church . . . welcomed almost 1,000 people in transit. They were traveling from different cities and villages from the east that were occupied by the invaders. We helped as much as we could: we sheltered them for the night, cooked for them and helped them to process documents (when it was needed), provided them with our own transportation, etc. There were also those who needed medical assistance and constant care.
While staying in the House of Prayer, people had the opportunity to have a little rest both physically (take a shower, wash their clothes) and emotionally (attending prayer meetings, church meetings, and have personal communications with church members). When they were leaving, many of them were very grateful to God and the church for the warm hospitality.
Later, the food aid began to come to our city. Our brothers and sisters decided that we could distribute this aid to the needy—to the displaced people who stayed in the village, and at the same time share the Gospel of Jesus with them. More than ten such meetings were held there that were focused on the IDPs and their needs.
From time to time, meetings are held for the older people as well on various topics that are relevant in our difficult time. Many of those who came to the church for help still attend the church services regularly. The church continues to help both the young and the elderly up now. Those who stayed in the church became God's instrument for achieving His goals through humanitarian aid and the preaching of the Word of God.
The church is very grateful to the sponsors and SGA for the humanitarian aid they have sent and for their desire to serve God and our people. May our Savior be glorified through this ministry!
Church #2
Our story began in the first weeks of the full-scale invasion. Since the military events were quite active in our city, people were initially frightened but not desperate. God stopped the enemy's attack about 100 km from us, but every day we feel and hear their activities. Cities that are a little closer are being wiped out by the enemy.
We are grateful to God that we can stay in our homes, in our church. Although many young families with small children have fled the city, there are still steadfast brothers and sisters in our ranks who continue to serve the Lord and people . . . we joined the volunteer programs to help distribute humanitarian aid to people who were left in difficult life circumstances, IDPs, the disabled, the poor, large families and pensioners who were left alone.
We are grateful to the people whose hearts were touched by the Lord and who helped us in this difficult period of our church's life.
Now the Lord is working in our hearts and in our city. We see His protection. Yes, unfortunately, there were some tragedies, but it could have been much worse, and we understand that. We praise our God for His mercy and His generosity. Blessings to all the people who did not stand aside!
Church #3
Our church is not a large but a friendly family of our Lord. Since the beginning of the full-scale invasion, unfortunately, most young families with small children have fled, because the war events were closely connected with our small town. However, there are still many who firmly believe in God's protection.
Now our church has been replenished with new people—locals who have already believed and even repented; IDPs who have found light within our walls. From the very first days of the war, our church was ready to welcome people who needed shelter and protection.
With God's grace, we are joining volunteer programs to distribute humanitarian aid. It is distributed to all segments of the society—IDPs, disabled people, pensioners, large families, families with the status of "family-type orphanage," and low-income families. We are happy to help with the delivery of humanitarian aid to those who are unfortunately unable to come on their own.
Every Sunday after the worship service, our church serves a hot, delicious lunch for everyone.
Also, with God's help, we are able to join in the distribution of humanitarian goods, also to all who visit our church. All this would not have happened if God had not blessed the people involved in all this!
Now we want to thank SGA and CHF and all the sponsors who donate money to provide us with everything we need! We would like to express our heartfelt gratitude from all the church members and those who came and received help. This is an invaluable contribution to our church's ministry to people, to those who have lost hope and those who have found hope in our Lord! The situation in the city is tense, but not hopeless. With the help of people who do not leave us alone, who care about us in the distance, hope is sparked in our hearts. Hope that not all humanity is full of hate!
May God bless those people who do not stand aside and help our churches and people in difficult times. We sincerely thank everyone who participated in this support!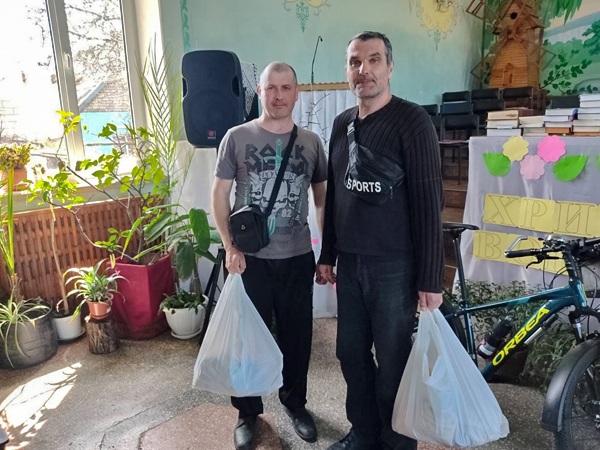 In a time of great uncertainty, God is bringing help, healing, and hope to the people of Ukraine through SGA-supported pastors, churches, a seminary, and SGA-sponsored Compassion Ministry. Be a part of God's incredible work with your generosity and prayer support.
Your gift of compassion helps struggling people with emergency aid that generally includes Scripture materials, food, medicine, warm clothing, and shoes.