Your Support Helps Bring Christ's Love Into Tragic Circumstances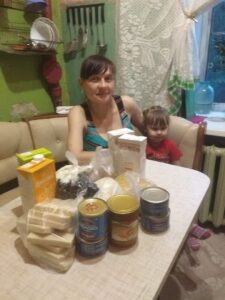 In Russia's Far East, faithful SGA-sponsored missionary pastors and church workers have been building fruitful, effective outreaches to families in crisis. One such team is in the city of Komsomolsk-na-Amur, from a church led by Pastor Yevgeny Zakharenko. Your prayers and support have helped them make a vital difference in the lives of young mothers and orphan children in need . . .
One of the things we are doing is contracting for a "Crisis Apartment." Young mothers are being provided with some aid, and a plan developed to resolve difficult life situations. One person we have been working with is an orphanage graduate. She is a mother with many children and received our aid—food, clothing, some legal help, psychological assistance, and we are now ministering to this family. These outreaches have led to cooperation with other orphanages. We signed an agreement with Aftercare Services for Orphans, plus another orphanage administration expressed the desire to work with us. Little by little, the Lord is entrusting people to us for ministry. We distributed 12 grocery packs and five clothing kits to families in need.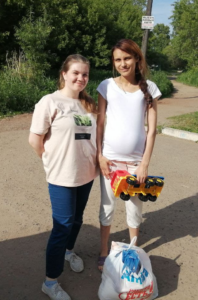 One mother came to us to help look after her children because her alcoholic husband was a real threat to them. Their daughter had previously been in a shelter because he physically abused her. The mother had been in a penal colony so she was unable to look after them on her own. We helped this family with all-around assistance, and now all the children have been reunited with their mother. More aid was provided to another pregnant young woman who has other children. It is a dramatic testimony—the father was recently released from prison and has had problems finding work, but both of them are now coming to the church! Pray with us that God's love will draw them to saving faith in Him!
We praise God that we have been able to actively work with governmental organizations, social welfare, Child Protective Services, orphanages, the police, and maternity care hospitals. Our Crisis Center is now moving into a three-room apartment because we need more space. Our staff and volunteers receive training on working with crisis families and the prevention of infant abandonment. We see a great need locally for prevention of "social orphanhood." Our Heart of God Mission is aimed at taking care of these children. We thank you for your generous, big hearts, and pray that God will bless you in everything!
This report from our brothers and sisters in Komsomolsk-na-Amur is a wonderful example of how your support is making an eternal difference in many lives. As physical help is rendered, the love of Christ is displayed and the Gospel is proclaimed. Glory to God!