Editor's Note: The images and testimony below were provided by an SGA-supported network of churches in Ukraine.
The Ukrainian family in the story below have endured much– but not without hope. Despite the chaos of war, God's Word shined light into the hearts of this family while hiding out in a basement. Praise God! Read Sveta's story below to see what an impact one prayer book, a Christian man, and a local church has made in their lives…
Sveta (15 years old), her mother Marina (40 years old), and brother Timofey ( 11years old)
They came to Poland with only their mother. Their father remained in Ukraine.
"You know, before the war, we as a family loved going to the sea in our beautiful city," recalls Sveta. "We also loved to go to the city square, and on weekends we often all went together to our favorite pizza place. My brother and I went to school, which had been beautifully renovated just prior to the war. But the invaders destroyed everything we loved, destroyed our city and took away our normal, peaceful life," Svetlana says. 
This young lady Sveta has such sad and "mature" eyes, the eyes of someone who has seen a lot in her short life. When she told us about their home life in Ukraine before and during the war, her voice trembled, and tears came to her eyes. At the age of 15, she has gone through a lot of hardship and grown up much too fast because of the war in Ukraine.
"On February 24, at 5 a.m. we received a phone call from a relative saying that a column of Russian tanks was moving in their area. After receiving his call, just five minutes later, my parents and brother heard explosions. I woke up because of the explosion as the windows in my room were shaking. We turned on the news, at once realized what had happened, and began to quickly put all the necessary things in our bags. Then we dressed warmly and prepared everything we needed for our stay in the basement. And an hour later, we went down to the basement of our apartment building. It was very cold there. And that day, after the shelling, I saw the body of a dead soldier being buried in the courtyard."
And then heavy shelling and air raids started in their neighborhood. Moreover, there was no electricity in the whole neighborhood, so they moved into their grandmother's apartment. At first, there was electricity, but on March 3rd, it was also cut off in the building. On March 5th, gas was also cut off. For two days, they still went from the basement to their apartment between the shelling. Then, from March 3rd to 16th, they spent all their time in the basement. They only left the basement for short periods of time when it was quiet.
"At first, we cooked our food in the courtyard using an open fire. But then our Ukrainian military, who were next to us until they were relocated to another place, gave us their gas stove and gas cylinders [when they left]. There were as many as thirty gas cylinders! One gas cylinder was enough for three days. It was a miracle of salvation for all our neighbors from nearby apartment buildings. Our soldiers also left us five large sacks of potatoes, four sacks of onions, three boxes of rye bread rusks, and three 12-liter cans of water. We thanked God for everything because it helped us survive."
Sveta says the following about the shelling, "Once a mine fell five meters from the entrance to the apartment building where my grandmother lived. Due to the blast wave, two nearby apartment buildings were partially destroyed: all the windows there were blown out. The Russians aimed their guns at the school, but because of indirect hits the nearby residential buildings were destroyed. Later, after March 16th, the school was destroyed too."
"Sometimes, when my father and I came out of our shelter and walked around our neighborhood for a while to see what was going on around us, I saw a terrible picture," Sveta recalls, "I saw the bodies of dead people lying around, covered with bloody rags. Then their acquaintances found them and buried them directly in the courtyards of residential buildings. No public utilities were working at that time. No one was taking out garbage, the rubble, or repairing water, electricity, and gas supplies. And the police, for some reason, did not perform their duties either. They did absolutely nothing against diversion intelligence groups and looters because the 'authorities' and the mayor left the city on the very first day of the war."
The brave girl says the following about her experiences in the first two weeks: "I had no feelings whatsoever; we were just trying to survive. We had to get used to the situation we were in. Then we started to take things a bit easier, I guess we got used to what was going on there. In the last days before we left the city, all the people who had been in the basement with us the whole time got used to everything that was going on and even became friends with each other. You could even hear jokes, laughter, and songs then. We were already like a big family. I called our whole company our 'basement flock'" (Sveta is smiling).
Being under God's protection and support
Sveta said the following about her time in the basement, "During those terrible Russian shelling, I used to read some prayers in the basement. Our family had a prayer book that we all read aloud together. We could see how God answered our prayers. He gave us food and water, kept us from being wounded and killed. And it was especially amazing how miraculously He helped us to get out of the city unharmed, even when our convoy of cars drove into a bad area. We had no other way out, as the bridge on the road leading to escape had already been destroyed by our Ukrainian soldiers to stop the Russian military vehicles."
"But God performed another miracle," Svetlana continues. "One time, when my father was leaving his apartment with a sauce pan to heat some food on the fire, a mine landed five meters from the entrance of the apartment building. He managed to hide behind an open door and thereby avoid being hit by mime fragments. And it saved him then, praise God."
Evacuation of the family
On March 15, the frequency of shelling decreased. Sveta's family came out of the basement, and they saw that there were far fewer cars and people in their neighborhood. That's when they realized that people were leaving the city. They talked to one another and decided to evacuate while it was still possible. And on March 16th, the family left the city in their car. Initially, they didn't even know where to go, but they simply followed the convoy of cars ahead of them. The goal was the same: to leave as quickly as possible. In one town the family stopped to spend the night in a monastery. They were welcomed there with warmth and hospitality. Then they drove further towards the Polish border. A good Christian let them into his home there. He gave his house to the family to live in for free.
After that, Sveta, together with her mother and brother, went to Poland. Eventually, they came to a local church where the family was given a separate room, and they are now being provided for by the church.
May 18, 2022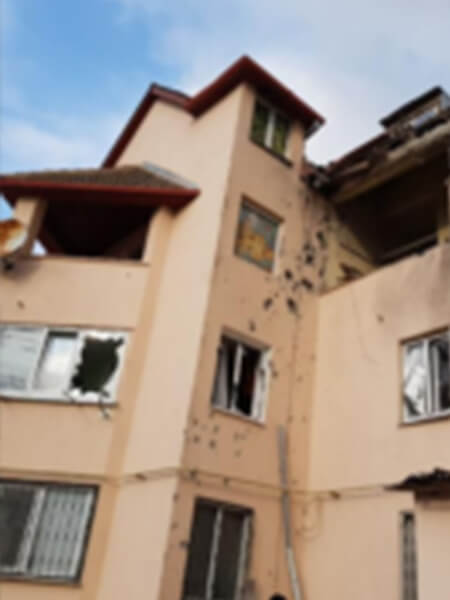 In a time of great uncertainty, God is bringing help, healing, and hope to the people of Ukraine through SGA-supported pastors, churches, a seminary, and SGA-sponsored Compassion Ministry. Be a part of God's incredible work with your generosity and prayer support.
Your gift of compassion helps struggling people with emergency aid that generally includes Scripture materials, food, medicine, warm clothing, and shoes.