Editor's Note: The images below were provided by an SGA-supported pastor in Ukraine.
When you read excerpts from SGA-supported Pastor Vladimir's recent report below, you might think of C.S. Lewis' quote: "God whispers to us in our pleasures, speaks in our conscience, but shouts in our pains."
Yes, God is reaching the hearts of hurting Ukrainians as the horrific war rages on . . . and many are now listening. The opposition has intended to harm the people, but God has intended for broken hearts to be drawn to Him. Please pray for Pastor Vladimir that he and his church members would be strengthened and encouraged in their ministry to meet emergency needs and share the hope of the Gospel. "The war is terrible," as he says. "But God allows people to hear the Word of God."
––––––––––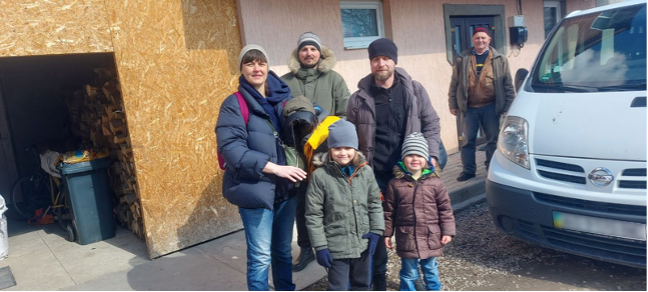 Greetings in the Lord!
My dear friends, brothers, and sisters, thank God for His love, His blood that has united us. Thank you for your care for us, for the money you donate to my family, to my ministry. Thank you sincerely for your concern for us, for your prayers. We need all this. May the Lord bless you abundantly and return you a hundredfold!
I sincerely congratulate you on the feast of the Resurrection of Christ. Christ is Risen! He is Risen Indeed! May the Lord bless you abundantly on these holidays. We pray and ask you to pray for us in Ukraine to celebrate Easter without war, for peace, because the situation is very difficult, although in the west of the country, thank God, calm, compared to [other cities], although 90 km from us also rockets arrive in [two Ukrainian cities]. Very difficult situation, please pray for us.
During the war, we are involved in settlement and assistance for refugees. We resettle them in our homes or find places where they can be resettled, such as schools, gyms, take care of food and clothing. More of the migrants are people who are not believers or have no personal relationship with the Lord.
The war is terrible, but God allows people to hear the Word of God in difficult times. These days, we are helping people with clothes and food. Some of them lived near the House of Prayer in [a Ukrainian city] and when they learned that we as the Church help them, they began to cry and repent.  
Yesterday people asked for help. They lived in a cold basement for 20 days in [a Ukrainian city]. People are in need of support. They got out of [many] bombed cities. People flee in different ways, some by transport, some by train. I went to the station to take the sick and old people to the car, where many people live in schools.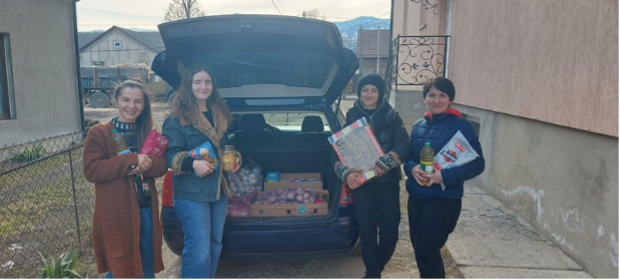 It is impossible to describe everything [here]. All this horror. Many cars are shot. These days we were approached by women from [a Ukrainian city] who needed help with their car shot. 
May the glory of God be spread through serving people for the glory of God. I believe that many people who have lived without a personal relationship with Christ will turn to Him. We pray for people who have lost their loved ones, their homes and there are millions of such people . . . so that the Lord will give them comfort. We pray for an end to the war. Please pray for us!
Your brother, Vladimir
––––––––––
In a time of great fear and uncertainty, God is bringing help, healing, and hope to the people of Ukraine through SGA-supported pastors, churches, a seminary, and SGA-sponsored Compassion Ministry. Be a part of God's incredible work with your generosity and prayer support.
Your gift of compassion helps struggling people with emergency aid that generally includes food, medicine, warm clothing, shoes, and Scripture materials.