Editor's Note: The report, stories, and images below were provided by SGA-supported churches in Ukraine.
When generous friends like you respond to the great need in Ukraine, what results is blessing beyond measure! Here is how the crisis aid made possible during the ongoing war has impacted the Rivne region. May reading this report fill your hearts to overflowing!
A Letter of Thanks
Dear SGA staff and partners!

The Rivne Association has received a Food Aid cargo to help people affected by the war in Ukraine. Through your help, many people in need have experienced practical care through the work of volunteer centers that have been established on the basis of our churches.

We are sincerely grateful for the fruitful cooperation, prayers and your open hearts to serve with us. May our God of peace give you joy, multiply your love and fill your days with His heavenly blessings.


Sincerely,

Andrei
Senior Pastor
Cargo report – Rivne
We are not a large Baptist church in Kvasyliv, but during the war we clearly saw the needs of society and the challenges for us as a church.
From the very beginning of the war, we hosted, fed, and helped people who fled from the war at our House of Prayer. There were old people, young people, people with children, sick, dirty, suffering and bleeding, frightened, crying, and without hope. We, as a church, as children of God, who were also frightened by the war, were able to serve them with shelter, food, and whatever we had.
Members of our church brought and gave everything people needed, and most importantly, told them about Jesus as the only help and hope.
Now in our town there are many people who are still in need, who have lost everything, and are forced to start over.
The Kvasyliv center for IDPs [internally displaced persons] has been officially opened at the end of August 2022. Since the beginning of the center's work, we have had more than 170 families, including single people, elderly people, young couples and families with children. Most of these families have lost their homes.
Every Saturday we communicate with them and help them with their needs. During this period, we have helped these families not only with food, which they receive once a month, but also with clothes, blankets, pillows, dishes, and other things they need.
Many families are willing to communicate with us. Several of them are now attending church meetings, coming to our holiday services, and attending home Bible study groups.
Those who have returned to their homes stay in touch with us. And this makes us very happy! We are ready to continue to serve people so that they may glorify the Lord through our ministry!
Olena and her husband live in Zdolbuniv. They moved here from Rubizhne in the Luhansk region. For two months they were hiding in the cellar, and on April 29 last year, a shell hit their house. Everything was burnt down in 30 minutes. They were in the cellar at the same time. Both were injured, the man was wounded in the leg. Later, our defenders saw them and took them to the hospital.
At this moment, the man has had several surgeries on his leg, which allowed him to walk better, but there is still a fragment of a shell in his leg. An additional surgery is planned. This family has been receiving help at our center since September. They also regularly attend our Sunday services.
Halyna is from Mariupol and now lives in a dormitory in Kvasyliv. She is a single woman, does not have a husband, and no children.
Halyna left Mariupol just a few days after the war started. During the first days, she and her neighbors cooked on the street. The men brought firewood for cooking, because there was no gas or electricity back then. Everyone slept in the basements, where they had a small supply of water and food. Mariupol was under constant shelling and her home was destroyed. It is beyond repair, so she has nowhere to go back to.
Halyna has been receiving assistance since last August. We bought her a cane because she has difficulty moving around. Here she met other families who also moved from Mariupol, and they come to Sunday services together.
Svitlana came from the Luhansk region. Her husband went to the army at the beginning of the war. She and her children moved to Zdolbuniv, Rivne region. They have been living here since March of last year, and are renting a house. Their house in the Luhansk region is now under occupation.
In November 2022, Svitlana's husband was killed defending our country. Since then, Svitlana has been helping widows whose husbands were killed at the war front. Svitlana is a Christian woman and regularly attends services in Zdolbuniv.
Inna and her family were forced to leave the city of Primorsk in the Zaporizhzhya region. Initially, their family moved to Kropyvnytskyi in March last year, where they stayed for a few months. In the summer, they returned home. The house was slightly damaged, so they hoped to stay at home and that they would be safer there. But they didn't stay home for a long time, because their house was located in the center near a school that was constantly shelled.
In late summer 2022, they decided to move to Zdolbuniv, Rivne region. They live here now, rent a house, and attend Sunday services.
Maya from Kharkiv, along with her family, husband Ihor, and children Mykyta, 14, and Yaromyr, 4, moved to Vinnytsia at the beginning of the war. Their home in Kharkiv was completely destroyed and cannot be restored.
Maya is a military serviceman, and her husband has not been able to find a new job. This family is related to our sister from the church. We have the opportunity to help this family with clothes.
Konstantin from the city of Izyum, together with his wife Vera, daughter Oksana and granddaughters, came to Zdolbuniv last May. Their house was destroyed, but they hope to return to their home in the future.
Many families with young children were able to receive new T-shirts and sweaters.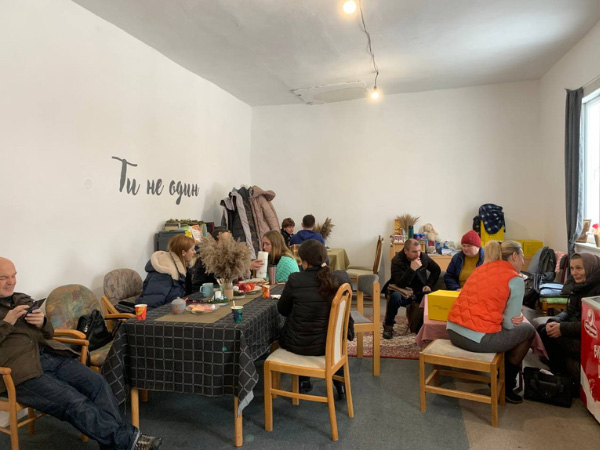 Volunteer center in Rokytne village, Rivne region
We have started providing aid to IDPs since the first weeks of March 2022. Our value was not only charity support, but also psychological and spiritual support. We prayed for each person and family together with them. Many of them were crying.
What is our vision for this ministry or why are we doing it?
Together with the local churches, we are communicating the Gospel in its entirety by providing any relevant assistance to IDPs, and now we are looking for needs and opportunities to reach local audiences (families of those killed at the front or whose relatives are defending there).
Our ultimate goal is to see people come to know the Gospel, repent and join local churches (and, if necessary, to open a new church with the blessing of the churches).
You are not alone. Our value is teamwork. We thank God for the dedicated volunteers (14 volunteers) to conduct personal introductions, reading the Gospel, and providing any support. Together we learn, go through new challenges, support each other, talk through difficulties, and pray. Although we come from four different local churches, we are united in this ministry.
What exactly is happening here and how?
Once a month, through personal meetings, we provide charitable support (food, clothing, bedding) for about 80 to 90 families with 160 to 220 adults and about 70 to 120 children.
We have an evangelistic group every week. In fact, we cover the entire district. Even though those IDPs who are 70 kilometers away are not our priority, we cannot refuse them, and we use even such opportunities we use even such opportunities to witness the Gospel and pray for them.
About 20 to 30 people have agreed to weekly personal meetings to read the Gospel of John without giving out food, have read most of the New Testament, attend church, and take Christian courses.
For the last 1 ½ months we have also been providing support to the families of those who died or whose relatives are currently serving there. We are getting more and more involved in this area and cannot ignore it.
Unfortunately, we already have 31 families with deceased members. We want to share some of their stories.
Krivosheeva and her daughter. These are women who understand and know the Bible stories in about the same way, somewhat with the same experience. These women told the story of how they got here. Their house was located near the frontline and Krivosheeva did not want to leave it, as it was very valuable to her, while the children had moved to a safer place long ago. One day, when the mother was praying in the basement that she could see her children and grandchildren, a shell hit her house and she had to leave the next day. The volunteers brought her directly to her children. She said that it was God who released her from such dependence on her house and showed her what is the most important things in life.
They have gone through the Gospel of John in the Bible study and are now studying separate topics about the Holy Spirit, the church, sin, etc. We want to develop further to join the local church, but at the moment we are not ready for that. We are so happy that they continue to attend the groups and are interested as well.
Sergei and Olga came from Kharkiv at the beginning of the war. We took turns meeting them after they first came for food aid. It was not on purpose. Dima started meeting with them regularly after the yellow boxes.
The first thing we went through was the Gospel of John. We read chapter by chapter and discussed it. They read some chapters at home and discussed them together later.
It is encouraging that they read with joy and ease, and during the time of our fellowship they read all the Gospels besides our meetings and in addition some books like Josh McDowell.
Olga is more interested and has progressed in spiritual things and learning. They are not yet ready to come to church, but they continue to come to the meetings and be friends with us. We pray for their churching and spiritual development.
Anastasia from Mykolaiv. She is married, has one child, and now lives in the village of Masevychi, Rokytne district. She has been attending weekly Bible study meetings since last spring and has been discussing the Gospel. She is very interested in it and asks a lot of questions about God. Also at home she is reading the Gospel on her own and also reading Christian literature.
She has started attending the House of Prayer and her daughter is attending Sunday school. Her greatest desire is to live and serve God, and we are helping her in this.
Natalia and Oksana are from Lysychansk in the Lugansk region, which is now occupied. They moved from there in early May last year to Rokytne with their children. Since the beginning of September, they have been having weekly meetings to read the Gospel of John. This is a new experience for them, as they had previously heard biblical stories and truths by hearsay, even though they believed in God and positioned themselves as Christians. At home, they read the Bible on their own from time to time, and during the week they have many questions and look for answers on Wikipedia. At the Bible study, it is clear that they deliberately and with interest come to understand the text.
Natalia and Oksana are working and have started their own sewing business. Due to the lack of ladies in our team, the meetings were held by young brothers, and in the future we plan to have them led by sisters, who will join the team and who will be able to better guide and understand them. We pray for their repentance and church attending, for our ministry to their souls at this time.
Volodymyr with his two daughters. Volodymyr was born and lived near the village of Rokytne, but after the Chernobyl disaster he was forced to move to the Mykolaiv region because the health condition of one of his daughters needed to live in a different climate.For 35 years, he has been rooted to that land so much that he did not want to leave until the last moment, but when he was forced to, he cried like a child.
He has given to his daughters a good education, they are teachers of English and biology, and a desire to know God.
Liudmyla (one of the daughters) lost her son due to illness, and her daughter is suffering from an incurable disease. Despite this, the war and being separated from her husband who stayed in the Mykolaiv region to eliminate the consequences of shelling, she believes in the Lord and wants to understand Him.
She says they have been searching for God all their lives and saw Him as a powerful Master over all mankind, and His demands must be obeyed. But only after the Bible study meetings the Lord has revealed Himself to her as a merciful and loving God who also became a person who would accept her and comfort her.
For more than four months now, she and her father have been attending weekly Bible studies even without providing food, they study the Gospel on their own and bring their family and friends to the Bible study. These are more and more deep and sustained discussions in which they are learning to walk side by side with God, so please pray for them and for the work the Lord is doing through them, and through us!
Natalia is an IDP from Kharkiv. Since the fall, she has been attending meetings through the yellow boxes, and when she was invited to meet in person, she immediately agreed.
At first it was the reading of the Gospel of John, and now she is taking the Emmaus course.
Natalia is a very interesting communicator, asking a lot of questions, and she reads the Bible at home. She is willing to attend the church and has already been several times.
Yulia lives locally. Her story is very special, because her son is at the frontline. He was in Bakhmut last week. On the fifth week of communicating with her, she lost contact with her son for a week. We felt it was very important to support her at this time. We don't know what to say in such situations. After eight days, her son called her back.
For such families, we want to lend a shoulder on their hardest day. At the moment, there are 31 families whose members died in the war, and we start meeting with them in March.
We are grateful to all our supporters for their generosity and your response to this need. Because of the [emergency supplies] support we have the opportunity to make first contact, establish relationships, and do practical ministry. This allows us to maintain relationships and help those who are in need.
We are especially grateful to the SGA for their timely support! To be continued . . .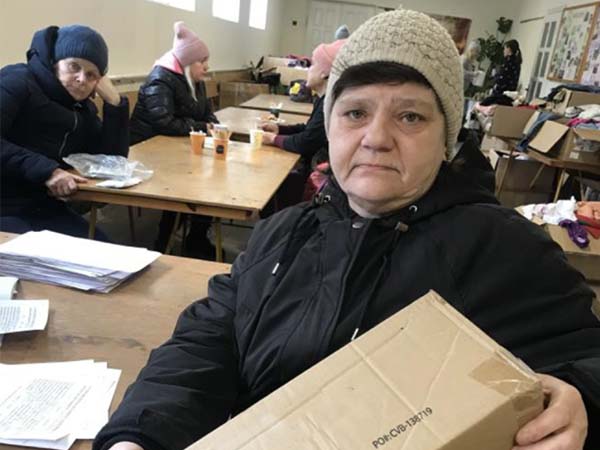 In a time of great uncertainty, God is bringing help, healing, and hope to the people of Ukraine through SGA-supported pastors, churches, a seminary, and SGA-sponsored Compassion Ministry. Be a part of God's incredible work with your generosity and prayer support.
Your gift of compassion helps struggling people with emergency aid that generally includes Scripture materials, food, medicine, warm clothing, and shoes.