You give children an "Orphans Reborn" Easter
Easter is a special time of the year, and the Lord opens many hearts to the Gospel. This year the SGA-supported Orphans Reborn team in Russia's Nizhny Novgorod region prepared an Easter ministry focused on Jesus suffering for our sins, His way to the cross, His glorious resurrection, and salvation for everyone who will trust in Him as Savior.
The team took this outreach to a special needs orphanage in a nearby town. They met 16-year-old Olga who was expecting a baby very soon. She graduates from school this year and will bring up her baby with her mom, who will have custody. The family is poor, and the team supplied her with supplies including a baby carriage and a cot, which opened the door for more ministry. Orphans Reborn workers write: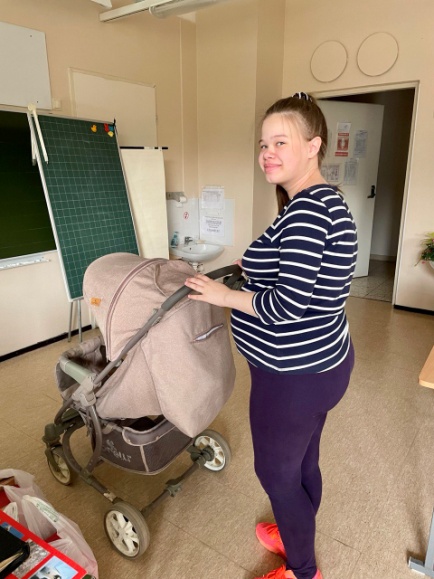 "We realize that Olga needs not only financial support, she needs friends and love in this rather challenging situation in her life. We encouraged her to keep her child and be a loving mom instead of making this child into another orphan. Olga heard the Gospel and believes that God can forgive her and take care of her future life. This time she was especially touched by the episode with crying women who loved the Savior so much that they followed Him without fear of society's disapproval. We will keep in touch and pray for Olga to entrust Jesus with her life completely."
Then the team shared about 17-year-old Artyom, and the impact of Orphans Reborn in his life:
"When we first met Artyom in the orphanage, his head was totally shaved. Our volunteer Tatyana who talked to him said that he did it because he wants to be special. Our next visit involved lessons where we taught children that God created everyone special! Children were lining their hands and writing their talents and gifts as well as their personal features on them. Artyom was participating actively. After this meeting, he said that he never realized how special he is. This is a story of real transformation. When we came with the Easter program, Artyom helped us throughout the whole program—he turned on the projector, helped to turn on music and was organizing the other children for the program. After the Easter story, 25 children heard the Gospel and asked Jesus into their lives!"
Dear brothers and sisters, we are so very thankful that we have such friends, helpers and coworkers as SGA partners. Thanks for your support, we are able to make more visits and share the Gospel to more children and adults. We need your help, especially prayer for orphans' salvation and transformation of their lives. May God bless you abundantly in your ministry!