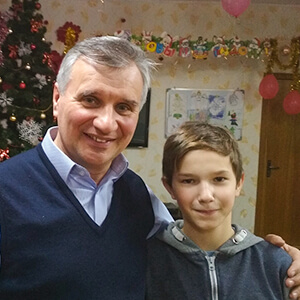 How your gifts help an orphan reach other orphans for Christ
Fall has come, and that means the faithful churches SGA serves across Russia and her neighboring countries begin preparing in earnest for another Christmas season of ministry through Immanuel's Child. So many children in the former USSR have never heard of "Immanuel"—Jesus, who is "God with us" (Matthew 1:23). But since the inception of this vital ministry in 2002, your prayers and generous support have helped reach tens of thousands of needy children each year with the Gospel.
Sergei is an SGA-sponsored missionary pastor in Belarus. Last year's Immanuel's Child ministry was especially memorable for him because of the impact at a local orphanage, where his team presented a play before the gifts you helped provide were distributed. He excitedly described what happened: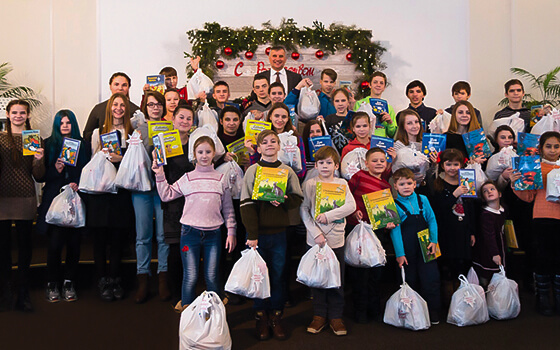 The play we prepared was called "Christmas in a Barn." We made theatrical scenery and costumes, and we are thankful for gifted people in our church who joyfully helped in this area. Immanuel's Child is not a one-time event for us, but rather a whole network of meetings with children and adults in church buildings, orphanages, schools, and other institutions.

About 40 children from dysfunctional homes were there, and they closely watched the events on the stage. This year's program was different as we had orphan children who had been adopted by our church members performing. Young Arthur was one of these children, and he played the part of a boy with a Bible. A woman on the orphanage staff approached Arthur and said, "I think I recognize you. You used to be at our orphanage years ago!" And indeed, Arthur had been in the orphanage for more than a year before his adoption. Now, he comes back to the orphanage with a different goal in mind—to share the Good News with the children and their teachers. God does miracles, and is indeed . . . the Father of the fatherless (Psalm 68:5). Thank you for your open hearts and desire to help our children!
Similar Christmas programs were also held at Sergei's church, with the distribution of gifts along with the Bethlehem stars signed by SGA partners here in America. This is only one example of the impact you are having through your support of Immanuel's Child. This Christmas, we are praying to reach 40,000 children with the life-changing Gospel. Thank you for all that you do to help make it possible!