With the ongoing war, Ukrainians continue to face great pain and hardship. Please praise God for the aid we can send to SGA-supported churches — thanks to the exceeding generosity and kindness of friends like you — and then lift up these churches in your prayers. Here is a recent report from SGA-supported Pastor Dima . . .
Greetings!

Finally, the light has come on, and I can write a report in peace. Many thanks to the mission of the SGA for the continued long-term cooperation in helping the churches and people in Ukraine.

Our situation remains difficult, but so far so clear. Winter is coming, and it makes us especially prepared for the cold. Now we are planning to organize tents and heating places for people, where we want to put stoves with wood. Now we really need 10 generators for these heating places.

The situation of military operations has changed in [one Ukrainian city]. It is now liberated and we are sending humanitarian aid there. People are in great need now, without electricity, water and food. In [a Ukrainian] region there is less shelling in the city, but [two] nearby villages have been heavily shelled and we have not been able to go there for a week.

Tonight, there was another tragedy in [another Ukrainian] region. A missile hit a maternity hospital and polyclinic at night. A newborn baby was killed. His mother survived. It is painful.

A lot of people from villages come to [our church's village]. 100 to 200 people come to our help center every day. We try to receive as many people as possible, but we have power outages twice a day. Thank God the church at the help center is growing, the hall is full, people are standing in the hallway. There are repentance.

We are continuing our ministry and have a need to serve people with hygiene products and household items. We received funding and used it to buy food, hygiene kits, as well as blankets and pillows, because many people had not even brought bedding! We distributed blankets and pillows at the help center. Food and hygiene products were taken to the frontline villages.

Pastor Dima
Images of Destruction from the War
Images of Food Package Distribution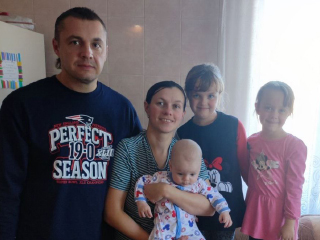 In a time of great uncertainty, God is bringing help, healing, and hope to the people of Ukraine through SGA-supported pastors, churches, a seminary, and SGA-sponsored Compassion Ministry. Be a part of God's incredible work with your generosity and prayer support.
Your gift of compassion helps struggling people with emergency aid that generally includes Scripture materials, food, medicine, warm clothing, and shoes.