A translation of the testimony of Pavel S. — a graduate of Novosibirsk Biblical Theological Seminary and pastor who serves in Russia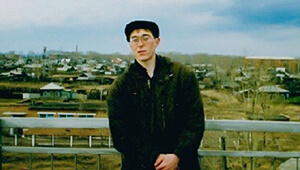 I was born and raised in the small town of Zaozernyi, Krasnoyarsk Krai. I was really good at school and used to read a lot. I was brought up right and have read many good books. That is why I have developed certain moral principles which I have never crossed over. I felt it was my duty to get good grades in school. I did not swear using obscene words, was intolerant towards smoking, drinking, stealing and considered all that as a filth.
After graduating from school, I enrolled at university. I moved into the student dormitory and plunged into the student life of making new acquaintances, friends, and getting new impressions. My life became more "colorful", interesting and vivid. I did not even notice how easily I crossed over those moral principles that I had been holding sacred and which I never violated before. Everything that I used to consider a filth suddenly got to be all normal — all of a sudden sin enslaved me.
I became fond of rock music. I was drawn to songs which were saying about our search for the meaning of life. At the same time, it did not bother me that the authors of the songs glorified the immoral lifestyle. I was just desperate to find the answer to the main question, "What is my reason for living?" The answer, "We live today to kick the bucket tomorrow" was not enough for me. Rather, the lines of another song reflected my inner self, "hey, you, cavemen, tired of waiting for an answer, explain to us better the essence of white light".
I had been looking for answers, but not in the right place. Rock music and a rakish lifestyle was sucking me in more and more. I left the university, deceived my parents, and my life was totally messed up.
I decided to go back to my hometown and tell my parents that I left the university. It was the first time I saw my father crying because his son became such a person and failed to meet his parents' expectations.
Unexpectedly, my older sister Zoya believed in God. I did not understand why did she need God, because she was a "normal" girl. What did she have to change? But the changes of her character were evident. She began to treat me with love and care, her pride and arrogance just had gone, and she began to tell me about Christ. I ridiculed her, believing that I was "smart." But the irony was that "smart" person was kicked out of the university and did not see any meaning in his life.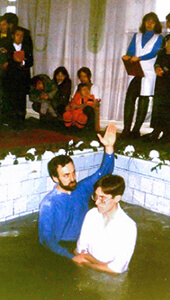 My sister had some Christian literature, which I read without telling her and put them on a shelf. So, I read through all of the books she had, and began to possess the information about God, the Gospel, repentance, but I did not know God personally. I began to listen to Christian music and compared it with the one I listened to before. Then I just saw the important distinction. Rock music only raised questions over the meaning of life, but there was no answer. The authors of such music simply did not have answers. And Christians songs pointed not only to the main human problem — sin, enmity with God, but also offered the way out in Jesus Christ.
I turned the look to the Bible and began to read the New Testament regularly. I tried to take a close look at the lives of my sister's Zoya's new friends — evangelical Christians. I saw that they had a strong foundation in God which cannot be destroyed.
God called me in 1999. And one evening I just knelt in my room and asked Christ to forgive me. Jesus just very easily took away all the burden of sins that pressed on me, from which I could not get rid of by myself. I realized that the meaning of life is only in Christ, my Savior and the Lord, and I desired to devote my whole life to Him.
I started attending Bible studies and Sunday services in a small Baptist congregation (about 10 people). I befriended the pastor of the church, and began to communicate a lot with him and other Christians. And in 2000 I was baptized in the city of Krasnoyarsk.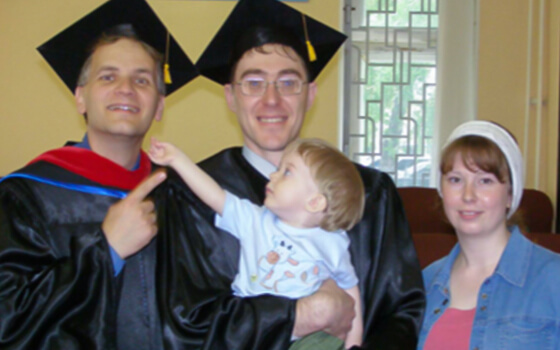 Once, being at home, I was watching a video — still on old-fashioned VHS tapes — with Roman Borisovich Dekhtyarenko teaching students of the Irpin Biblical Seminary. And I looked at them with admiring envy. How wonderful it would be to learn to study in depth the Word, to go deeper into God's character, to preach the Word of God to people, to devote myself to the service of God. And God made my dream come true. In 2002, I entered the Novosibirsk Biblical Theological Seminary and Roman Borisovich Dekhtyarenko taught us several courses. God is truly amazing! By God's grace, I graduated from the seminary and stayed in Novosibirsk to serve in God's church and for His Glory.
My studies at the seminary helped me not only on the issue of biblical knowledge and its systematization, but also revealed even more clearly the amazing character of God. I learned to revere God and His Word. That in its turn affected my approach to preparing sermons, serving in the church of God.
The tools and skills I gained at the seminary do not remain unused, but I actively use them to serve in God's church. I preach to young brothers and teach them how to preach the Word and live by the Word. I work in counseling. I travel a lot to various cities of Russia with the preaching of the Word. I also teach and instruct our brothers in Christ to love God and faithfully serve Him. By God's grace, I have a faithful and modest wife and two children.


I keep asking God for His help to live in accordance with the words of the Apostle Paul, "But none of these things move me, neither count I my life dear unto myself, so that I might finish my course with joy, and the ministry, which I have received of the Lord Jesus, to testify the gospel of the grace of God." (Acts.20:24).
Thank you, brothers and sisters for your prayer and financial support to the seminary. I want you to know that your work is not in vain. You are participating with us in spreading the Word of God in Russia! May the Lord bless you abundantly!