Editor's Note: The images below were provided by an SGA-supported church in Poland.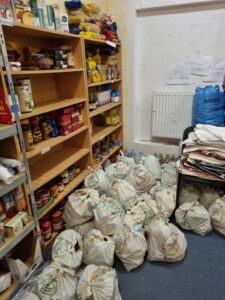 SGA missionary pastor Chris and his church are helping 50 refugee families who have arrived from war-torn Ukraine. Through SGA Compassion Ministry support, they have turned their facilities into a shelter to accommodate the emergency needs of their guests. Chris also works with another SGA-supported church which has created a refugee center to help provide aid to families fleeing Ukraine.
Here is a recent report from Chris:
Today marks I believe the 11th day since Putin invaded Ukraine. This morning the church was packed. We even saw some who have strayed away return. There were also some Ukrainian refugees at the worship service. Tomorrow we will be doing the first round of care packages for the refugees from the church in [our city]. The church in [another city] is seeing about 70 people a day come in to its refugee center, then move on. Many of the Ukrainians are heading further west to Germany and other countries. We will support the refugee center in [this city].

Today I spoke with the refugees in our church. They came from Western Ukraine but mentioned in the early stages of the fighting there were also rockets that came overhead. They have three small children. Because they have more than two children, the father was also able to cross into Poland. They are letting dads out of larger families. These people came out with just the clothes on their back and a few things in some suitcases. Please pray.

Blessings,

Chris
We thank God to see His people "serving one another as good stewards of the manifold grace of God" (1 Peter 4:10) — and praise Him for His faithfulness!
In a time of great fear and uncertainty, God is bringing help, healing, and hope to the people of In a time of great fear and uncertainty, God is bringing help, healing, and hope to the people of Ukraine through SGA-supported churches and Compassion Ministry. Be a part of God's incredible work with your generosity and prayer support.
Your gift of compassion helps struggling people with emergency aid that generally includes food for 10 days, medicine, warm clothing, shoes, and Scripture materials.
Be a Part of God's
Life-Changing Work