When SGA-supported Pastor Sergei's home was struck by mortar fire last summer during the ongoing war, his young granddaughter Marina was badly injured and lost her leg.
Today, thanks to the prayer support and generous gifts of friends like you, Marina has been fitted with a prosthesis! "I want to thank everyone who raised funds for my granddaughter's prosthesis," her grandfather Sergei says. "We will have a hard war going on, and we would not be able to raise money to purchase a prothesis and help the child start walking. May the Lord reward each of His bounties. We gratefully pray for you."
Watch Marina take some of her first steps wearing her new prosthesis . . .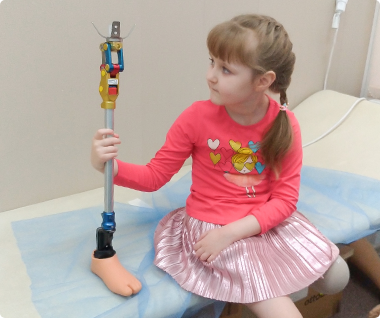 You may remember from an earlier report that while still in the hospital at the beginning of her recovery, Marina was interviewed by CNN. When the reporter asked Marina what she would like to say, the brave patient had a special message for her country's president. "Please tell President Volodymyr Zelensky that I am praying for him," she requested.
Marina's plea reached the Ukrainian president, and on several occasions, President Zelensky has acknowledged he is "more bold" knowing that a young girl is praying for him. On Marina's birthday, the president also sent a special video greeting to Marina. And as her story has become widely known, Marina has become the face of hope for many in Ukraine.
Please pray with us for Marina's continuing recovery — physically, emotionally, and spiritually. Also, join us in lifting up President Zelensky and all of those impacted by the ongoing war in Ukraine. May they come to know Jesus Christ as their Savior and Lord and be strengthened in Him.