Editor's Note: The images below were provided by an SGA-supported church in Ukraine.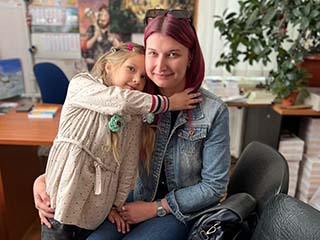 Thanks to the generosity of friends like you, humanitarian aid from Poland was recently delivered by a network of SGA-supported churches throughout one village in Ukraine. Their goal as they distributed the aid was to share the message of Christ with each bag handed out.
In this most recent report we received, many photos were taken during the aid distribution. The faces in the photo gallery below are of a people in need. Each one has a story, a sorrow, and a heart in need of Christ. Yet how comforting to know that as they carry off the bags of humanitarian aid they've just received, they are also carrying with them the message of the Gospel! Please pray hearts will be open with the aid distribution, and that more people will come to know Christ during this time of great suffering in Ukraine . . .
Greetings,
These recent pictures are from the recent distribution of aid through Poland. Some truly capture the lives of people there. We have established a new connection where our team is using vans to pick up aid from a church in Poland, and then delivering it directly to villages and nearby cities. In all cases, the Gospel is being proclaimed as the food is provided.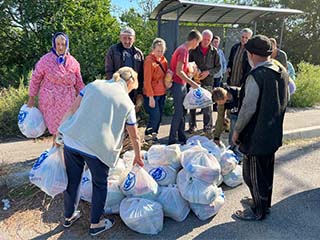 In a time of great uncertainty, God is bringing help, healing, and hope to the people of Ukraine through SGA-supported pastors, churches, a seminary, and SGA-sponsored Compassion Ministry. Be a part of God's incredible work with your generosity and prayer support.
Your gift of compassion helps struggling people with emergency aid that generally includes Scripture materials, food, medicine, warm clothing, and shoes.