We continue to receive uplifting reports from SGA-supported churches in Ukraine that have received aid shipped from our partners in Poland! Be encouraged as you read through this recent account of God's faithfulness to this area of Ukraine, and how He is working through His people to draw more hurting Ukrainians to Himself.
---
Dear brothers and sisters in the Lord!
We glorify God for the ministry that He has entrusted to us with you. Thank you for your love and care! Thank you for your prayers and support! May the Lord bless you all for what you do in His name! (Matthew 25:34-40)

A brief history of Bethany Baptist Church in Zaporizhzhia
The Khortytsia district in Zaporizhzhia has over 200,000 people living there, but for a long time there was no local church in this part of the city. Believers were members of churches located in other districts. The history of our church dates back in 1991, when about 70 people began to gather in a deacon's apartment. The Lord answered our constant prayers for a church building, and in 1998 a new House of Prayer was opened. Believers from our church use various methods of evangelism, bringing the Gospel of salvation in Christ to children and adults. Every year we baptize people. Today, more than 200 people are members of the local Baptist church.
Serving the IDPs
Due to its location, Zaporizhzhia has become a rescue center for thousands of [internally displaced persons] and almost the only way for those wishing to leave the occupied territories. Last spring and summer, 1,300 to 1,600 people were arriving in the city every day. The displaced people came from Mariupol, Berdiansk, Melitopol, Enerhodar, Vasylivka, Gulyaypole, Tokmak, Kherson region, as well as from towns and villages in eastern and southern Ukraine that have been attacked.
House of Prayer Serves As a Shelter
Since the beginning of our ministry, the church has provided shelter to 700+ people. Our drivers meet newly arrived refugees at the registration center located at the entrance to the city. Immediately after they are transported to the church, they get meals, take a shower, use the laundry machine, and have some rest.
Trips to Western Ukraine and Other Countries
Zaporizhzhia is also a vulnerable location. The front line is approximately 40 km (25 miles) from the outskirts of the city. Therefore, many people decide to continue their way to western Ukraine, Europe, or North America. Several times a month, our brothers take IDPs to western Ukraine (Lviv and other cities) by a church van. Our passengers also include the elderly, little children, and their parents.
Humanitarian Aid
Those refugees who have decided to stay in Zaporizhzhia receive humanitarian aid (we distribute food, hygiene kits, toys, baby food, and clothing). For this ministry, we are reliant on shipments from other cities and countries or use the funds provided for this purpose to make purchases in Ukraine. To this day, 29,673 people have received help through the church. Geographically, these are people from more than 600 towns and villages in 10 regions of Ukraine. People come with their whole families. Mostly people ask for food and hygiene items. They are grateful for any help. Receiving humanitarian aid, people also have the opportunity to hear about the Lord, find prayer support and pastoral counseling. We distribute Bibles and Christian literature along with humanitarian aid.
What Is Happening These Days
Last fall brought many challenges to our ministry. The [opposition] no longer let the refugees come to Zaporizhzhia. Therefore, our shelter is not operating. But the church keeps preaching the Gospel along with the distribution of humanitarian aid (food, clothing, hygiene kits). On cold winter days, we provided people with warm blankets. The church prepared for the past winter: we stockpiled firewood and fuel, and we uses an electric generator that produces "physical light" while we shared "spiritual light" during children's and adult programs.
The church organized Christmas and Easter programs for children and their parents. Many of them came to the city as IDPs. Every week we invite about 100 IDPs to a special evangelistic program and distribute food aid.
Please pray for:
1. The salvation of many souls in our country and other countries
2. Peace for the people of Ukraine
3. The end of this war
4. New sources for humanitarian aid (our regular sources are limited, and now there is much less aid coming into the country), resources for buying food
5. Fuel for the vehicles we use to bring the people in need to the church. We take them to safer places and pick up humanitarian aid in the cities of central and western Ukraine when we come back
Translation:
Since the beginning of the war, Bethany Evangelical Christian Baptist Church in Zaporizhzhia has been doing its ministry of evangelism and assistance to the IDPs. The Lord blesses our ministry, and by the end of last month, 29,673 people had received help through our church. Recently, we received a food aid shipment from the SGA mission, which was used to organize evangelistic events with the distribution of this humanitarian food aid. We would like to take this opportunity to convey the words of gratitude that were expressed by the people who received this aid:
Testimony #1:

I read the Bible every day, I have a Bible and have God in my heart. I am sincerely grateful to you for taking care of us as refugees.

Testimony #2:

I am grateful to you for the "package of goodness", every day we pray for the whole of Ukraine, for our soldiers. Thank you for everything. We ask God for forgiveness because we are sinners!

Testimony #3:

I think about God every day. I pray to Him in the morning, and in the evening, when I go to bed, I also pray to Him. Thank you for taking care of us, we left our homes, so it is a great help for us. We are grateful to those people who help us! Thank God that there are such people and we are grateful to them!
The humanitarian ministry team of our church joins these grateful thanks and wishes to all of you, SGA mission workers and sponsors abundant blessings from God!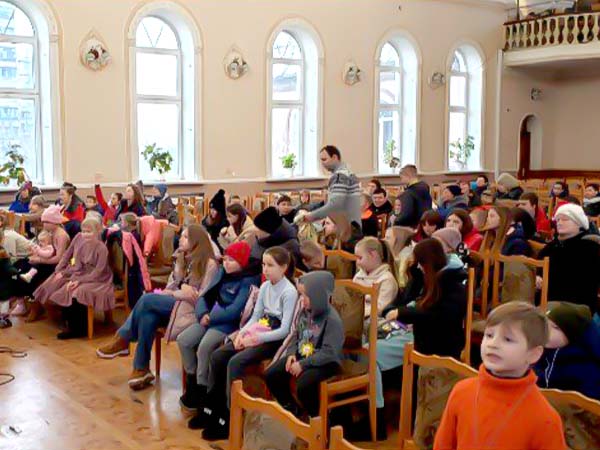 In a time of great uncertainty, God is bringing help, healing, and hope to the people of Ukraine through SGA-supported pastors, churches, a seminary, and SGA-sponsored Compassion Ministry. Be a part of God's incredible work with your generosity and prayer support.
Your gift of compassion helps struggling people with emergency aid that generally includes Scripture materials, food, medicine, warm clothing, and shoes.