My parents don't believe in God. When I came to the camp it was all new for me and interesting. The other children stood up for prayer and at first, I didn't want to but I did out of respect. I was afraid because I didn't know what my friends would think of me. But at the end of the camp, my friend Vasya and I prayed a prayer of repentance. During camp, I thought about my life, and I am happy that I found the Lord Jesus!
—Nikolai (Age 12)
I have never had such a wonderful rest! I had never heard about God before. I will do what I can to be more obedient to my parents at home and will attend Sunday school. I wish the camp could continue longer!
—Kirill (Age 12)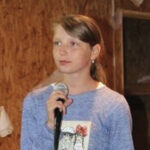 This was the best camp! I liked the games, the Bible lessons, the food, and songs. But most of all I am happy that I repented after talking with the pastor. I am very thankful that he prayed with me. Now I am on God's side and want to be with Him!
—Ivanka (teen girl)