When the war in Ukraine started one year ago, who would have thought a warm blanket could or even would become an evangelistic tool? God knew. He knew that generous friends like you would respond so quickly and with such enthusiasm to our Ukraine Heat and Hope Campaign. And through your support to provide winter relief supplies, He is now touching the hearts of hurting Ukrainians.
Be encouraged as you read the recent report below from SGA-supported Pastor Viktor. He shares how he has seen what an impact just one blanket can make . . . and how it is paving the way for life-changing Gospel conversations.
From Viktor:
I would like to share with you the joy of reaching out to needy people in the area of our local church! Thank you so much for the wonderful evangelistic tool you have provided — warm blankets! Below I would like to share a few stories with you.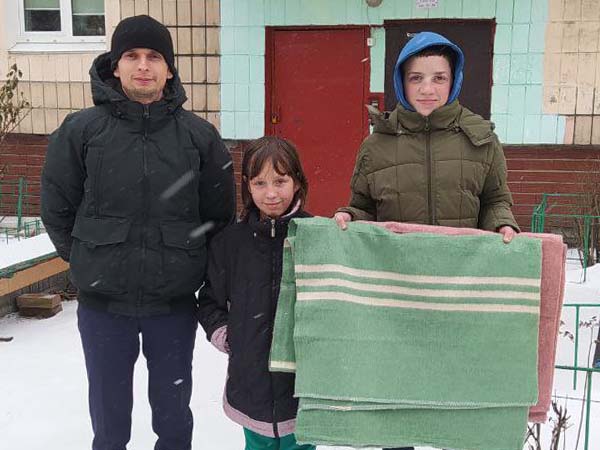 Anatoly and his sister Anya
Anatoly and Anya have started attending the children's Sunday school at our church. This is the time when children witness to their parents. The family belongs to the category of families with difficult life circumstances. Having to deal with systematic interruptions of heat and electricity, this family was so happy to receive a new fluffy blanket. Please pray that through the children, the parents would come to church and the whole family would come to the knowledge of the truth.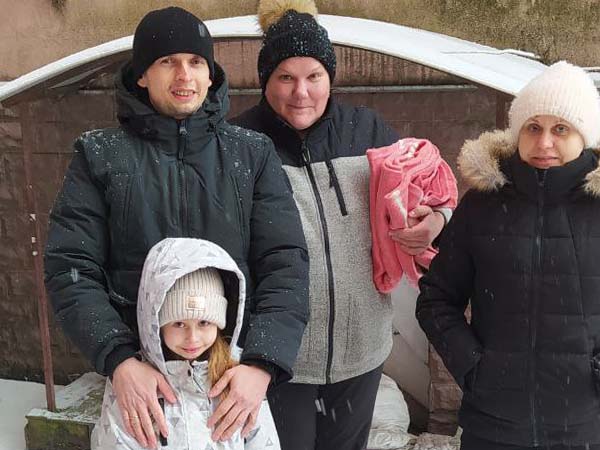 Zoya
Zoya is holding the blanket. Zoya has been unemployed for five months. She has a disabled daughter (autism), nine years old. Despite her difficult circumstances, Zoya has a very kind heart. Every time we meet, she always welcomes us to her home for a cup of coffee. In this photo, we have given to Zoya not only a small piece of the warmth of Christ's heart, but also something that will now warm her family from the physical cold — a warm and soft blanket. In the near future we plan to start a Bible study group at her home. Please pray for this.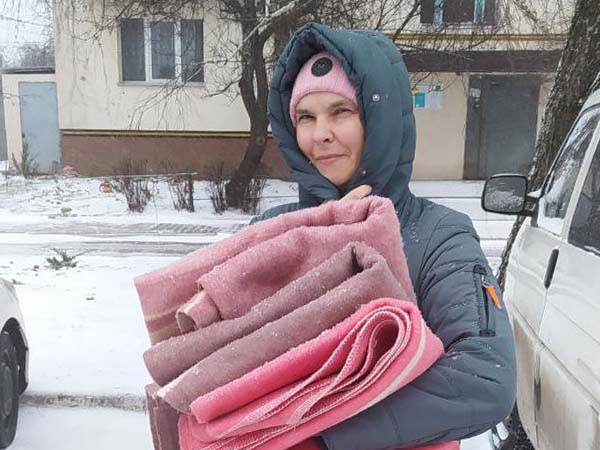 Olga
Her husband committed suicide. She is raising her three children with weak physical health. Olga and her children started attending the church meetings. It seems that they are missing communication, support and encouragement. Olga is very close to God. We pray for her salvation and the improvement of her and her children's health.
We bless you in the name of our Lord Jesus Christ, our dear friends! Thank you for your prayers and for the opportunity to have a shared ministry of the Gospel! Keep praying for us! May the Lord further grant us, give us strength, wisdom, and courage for life and ministry in this difficult time, a time of violent and bloody war.
In a time of great uncertainty, God is bringing help, healing, and hope to the people of Ukraine through SGA-supported pastors, churches, a seminary, and SGA-sponsored Compassion Ministry. Be a part of God's incredible work with your generosity and prayer support.
Your gift of compassion helps struggling people with emergency aid that generally includes Scripture materials, food, medicine, warm clothing, and shoes.