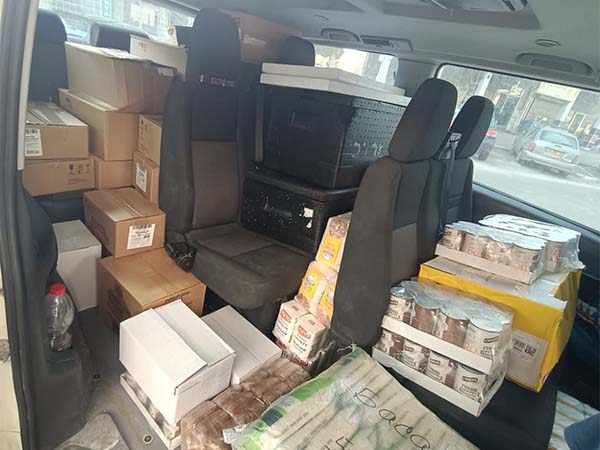 What follows from Natalia should inform our prayers. Natalia is the wife of an SGA-supported pastor. She shares of caring for others and the struggle in pointing them to Christ. Most often, the loving act of caring for those in need brings them to their church, and it is there they hear the Gospel.
The law in Israel forbids them from handing out the food and prosyletizing. Yet, they find ways to share the Gospel and the love of Christ.  It is not easy, and they need our prayers. Natalia writes . . .
Greetings,

My name is Natalia. We thank God for everyone who supports and helps us! The first days of the war were especially difficult; I worried about my family and friends, about my son who went to serve in the army. I was praying unceasingly. The Lord gave me comfort and faith that He was near and would always help.

God prompted us, and we rushed helping first to people who attend our church, through providing them with grocery packages, from among the elderly and families with children. The city has been and remains in the state of constant shelling. We started to receive many requests for help, as people were afraid to leave their home to buy foodstuffs, and elderly people were left alone, without food and groceries, since no one was able to come to them due to the shelling; in many houses there was no light and water. We came up with the idea of fixing hot lunches and delivering them to those in need. I was posting information in social networks about the support that we were providing to people in need. Today, I coordinate the flow of incoming requests; provide our drivers with contact info of people to deliver food.

We also purchase groceries for preparing hot lunches, grocery packages, water, and personal hygiene essentials. We prepare food, sort grocery bags, etc. Every day we deliver more than 150 servings of ready-made food to those in need. Despite the sirens and ongoing shelling, we understand that people are waiting for us.

Apart of bringing help, each of us tries to talk to people first, supporting them in word and in deed. People are very scared of what is happening and gratefully accept help. They are ready to listen about God, but unfortunately not about Christ. Despite this, we see how merciful the Lord is, while listening to the stories of people who were on the verge of death. We pray that the Lord will touch their hearts.

In this difficult time, when many of us are left without work, our children have been sitting in a bomb shelter for the third week in a row. We experience the Lord's care and provision for us, giving us strength and keeping us! Through helping people, we are taking part in God's cause!

In the evening I receive calls, text messages of gratitude, I cry and thank God for giving me the opportunity to serve Him in this time.