Editor's Note: The images and report below were provided by an SGA-supported pastor in Ukraine.
Recently, two different families from Ukraine shared their testimonies. After receiving aid arriving from an SGA-supported church in Poland, both families were touched by the efforts of the church and blessed beyond measure with aid and spiritual encouragement. We thank God for friends like you for making beautiful testimonies like these possible! Read their testimonies below and be encouraged by what an impact you are making in the lives of those who are suffering greatly halfway around the world…
"My name is Andrei. This is my family: my wife Olena, daughter Maria, and my mother-in-law Halyna. The situation in our area is horrible now… We left on the 8th, but before that we could hear a frightening roar, and saw something smoking, there were severe fights somewhere. But when a shell exploded a short distance from me and I was told that it was a 'tornado'… I was lucky that I was around the corner… There was no light in the house. We had to stay in a cold basement at night. We are very grateful to the family and the church that took us in, it was a miracle for us. We spent two days looking for housing, calling people, but there was no housing for us, our family agreed to any conditions… Our lives and property were left there in the village. We took only what we could with us. We hope to return hope as soon as possible… Every day we hope that this will be our last day away from home. We don't know what might happen next…"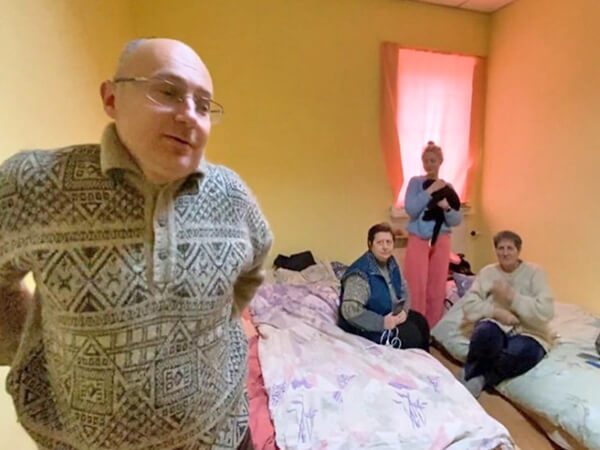 "My name is Alexander, and this is my wife, Natalia, and daughter, Sasha. From the beginning of the war, when the shelling began, we had to stay in an underground parking lot for nine days. There were children, seniors, dogs, cats. But every day the situation got worse and worse. They started shelling residential buildings and the railway station nearby. The night on the 4th of March was extremely difficult and when we left the shelter in the morning to go home, we realized what was flying just over our heads. It took us ten minutes to pack. We took our cat, got in the car, and came here. We very grateful to Natalia's family. She let us stay in her home, where we were able to relax and warm up. We were waited for here, very warmly welcomed. Food, water, everything was prepared for us here by this family. We are taken care of here. We are looking forward to the end of the war."
In a time of great uncertainty, God is bringing help, healing, and hope to the people of Ukraine through SGA-supported pastors, churches, a seminary, and SGA-sponsored Compassion Ministry. Be a part of God's incredible work with your generosity and prayer support.
Your gift of compassion helps struggling people with emergency aid that generally includes Scripture materials, food, medicine, warm clothing, and shoes.