Editor's Note: The report below was provided by an SGA-supported pastor in Belarus.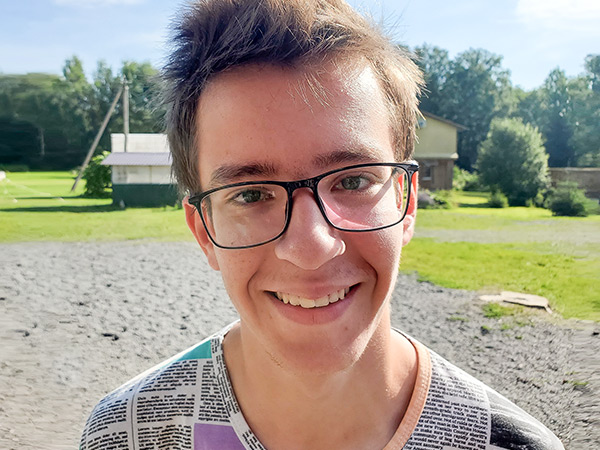 Our plans are not always the Lord's plans. We can prepare and even have expectations for a certain event, and yet God's plan is bigger. And so, we are thankful for Pastor Dima, who looked beyond the schedule at his church's Summer Bible Camp, and saw the heartbreak of a young man desperately needing the love and attention of a "father."
God's bigger plan was for a 16-year-old boy who could no longer smile, to cross paths with a man who could share the love and forgiveness of our Father in Heaven! Read more from Dima's recent report . . .
"On the one hand, it was a special camp since there were no difficulties or problems. Everything went smoothly and without incident. There were no guys who interfered with the rest and there was no defiant behavior or illnesses. Glory to our Lord!

"But, the peculiarity of this camp was different. As before, there were teenagers aged 13-16 in the camp, but they were completely different from the norm. They were very mature. Their way of thinking, their lives, and what they had to face at this age — all of this left a special mark on their attitude toward God, His Word, and to making adult, balanced decisions. Another distinctive feature that couldn't be hidden was a very strong desire in paternity!

"From the first day, one guy of 16 years old came up to me and looked directly into my eyes, without a smile, with particular anguish, and simply asked: "How are you?" Initially, I thought he was just playing around, because he did it 5-7 times a day. But later, I found out that seven years ago their father left their family with four children. Their mother is working from morning to evening. The older brother lives his own life, and this guy and his younger brother and sister, twins, were at our camp. So Matvey, a 16-year-old guy, stopped smiling two years ago. And when he came up to me again with the question how are you? I saw in his eyes not the desire to have the answer to the question, but simply male paternal attention. God blessed, and we became friends, and by the end of the camp, he began to smile back! Moreover, his younger brother and sister repented at the camp service, while Matvey walked and meditated.

"On the last day of the camp, he approached our mentor and said that he had weighed everything and decided for himself that he would end his former life and follow the Lord. He prayed a prayer of repentance before God and now he keeps his word. He comes to all services and meetings that take place in the church, and his younger sister comes with him. Pray for this family, that God's light will shine for their older brother, as well as for their mother!"
— Pastor Dima