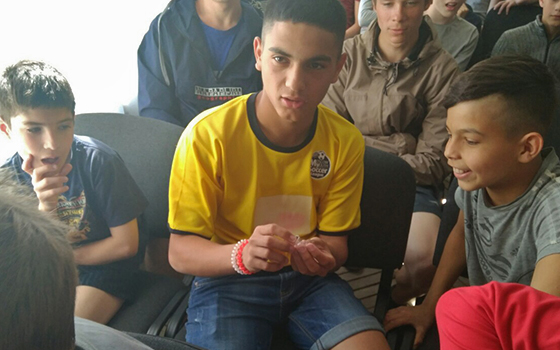 The Orphans Reborn team in Smolensk, Russia reports on ministry efforts in children's homes this past spring
"But prove yourselves doers of the word, and not merely hearers who delude themselves. … But one who looks intently at the perfect law, the law of liberty, and abides by it, not having become a forgetful hearer but an effectual doer, this man will be blessed in what he does." — James 1:22, 25
When the weather is sunny and warm — and the end of the school year is near — it is very difficult for the children to sit in the classrooms and to listen to the lessons. And that's why we change them!
The lessons are much more active, with a lot of games, songs, discussion, crafts. They do not include as much new information as they do talks. And we are glad that the children become more and more open. Of course, the presence of their teachers might prohibit them to tell everything they think, but still they are ready to share their opinion.
One of the teenagers whose name is Lyonya is one of the most active boys. He reads the Children's Bible by himself, and when we tell the Bible story he likes to join us in the storytelling. We begin the story, and he is ready to continue. He likes to answer the questions, and he is ready to discuss. Sometimes he has questions after reading the Children's Bible by himself. He likes to sing the songs. He says that he sings them not only during the lessons but during his free time as well.
There is also a teacher who is among the active listeners. Elena is a very positive, active, and kind person. She is eager to know more about God. And she comes to the Bible lessons even if it is not her turn to work. She comes from home to hear the lessons and then goes back home. We appreciate that this great woman has such a desire to learn more about God. She is a good example for the children that there is value in learning more about the Lord and His Word. She also came one time to our church with the orphans.
One of the good traditions in the Duhovschina orphanage is finishing a school year with a picnic. We have been doing it for many years, and the children do not go home for summer holidays until we have the picnic. This year was very rainy, but it could not stop us from having a good fellowship and delicious food. We had to meet in the dining room, and we did not manage to play as many games as usual. But we were preparing food together with the orphans and discussed the year, their plans, and their desires. They told us about their dreams and hopes. Some of them want a phone, while others want their parents to stop drinking.
While we were cutting vegetables together with the girls, one of them began to tell her story. Vera is 17 years old and has three sisters. They moved to Duhovschina from a bigger town. Her house is close to the orphanage. She goes home for weekend and holidays. During other times she is in the orphanage, and she says that she likes to be here much more than to be at home.
When she comes home, she always tells all the stories to her mother and sisters. She likes the Bible lessons very much. Vera says that these lessons have changed her. And she hopes that by her listening to the stories about God, her family will become better as well. She is praying for her mother and sisters.
We also listened to Christian songs as we got everything ready for the picnic. And we were glad to see that the children like them and were singing along. Some of them told that they have the lyrics written down and sing these songs at home.
We prayed all together before the meal. Several people from the team prayed and several children did as well. We thank God for this wonderful opportunity and pray for these open hearts.