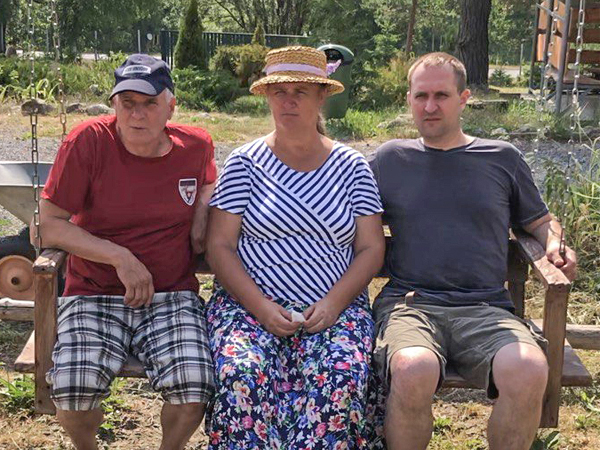 Inna, an SGA team member and translator for SGA's Regional Ministry Center in Belarus, shares below about a man who was greatly impacted by a weekend church retreat.
What Yuri originally thought was going to be only time with his fishing pole, after helping others for a short time with transportation, turned out to be a weekend where his heart was opened to hearing the Word of God. He took in every aspect of camp—the meetings, the fellowship, the activities and even served in the kitchen with the other men. The only fishing being done that weekend was by God! Please continue to pray for Yuri and that his heart would continue to be impacted.
"Grace to you and peace, dear brothers, and sisters! I want to share with you a testimony of the work of God's grace in people's lives.

On June 16-18, God allowed a summer camping trip for our church. There were about 50 of us. It is a joy to realize that the church is really a family, where people of different ages are present together, serving God and people. On such outings, you are in close contact with people, get to know people, their joys and needs, and the church of God becomes closer. Praise God for the unity we have in Him! The camp was also attended by unchurched people—relatives of our brothers and sisters. I would like to share an encouraging story with you. 

Brother Alexei from our church has a mom who is a believer, but his dad is not. His mom's name is Olga, and his dad's name is Yuri. Olga tells us that Yuri drinks from time to time, and when intoxicated he can be quite noisy. Although, when he is sober this man is very calm and kind. In the past, there was a situation with Yuri being drunk and he decided to go to the church his wife attends and tell the whole church what his wife is really like—she doesn't cook and doesn't clean. However, this is not true. He went behind the pulpit, said to his wife, "Cover your ears, I'm going to speak now," and laid out everything that was on his mind. That's how he thought his wife would stop attending church.

Thank God that the grace of God worked in Olga's heart and in the people of the church. Everyone understood the situation and there was no condemnation. This incident did not affect Olga in any way, and she continued to attend church, and Yuri did not prevent it.

While preparing for the church retreat, brother Alexei asked his father for help transporting people to the camp. The dad agreed, and with his wife they came to the camp. Yuri took a fishing rod with him and told his wife: "I'm going there for my program." But to everyone's surprise, Yuri participated in all camp activities—in general meetings, in sports activities, evening meetings around the bonfire and helped in the kitchen with the other brothers!

At the meetings we discussed the topic of wrong perception of God by people. As additional material, we prepared notes with key thoughts and passages to be filled in at our meetings. It was amazing how Yuri diligently filled in all the blanks and checked with his wife to make sure she had time to write everything down. And that is the great grace of God! It is such a joy to see how God changes people and draws them to Himself.

Since the retreat, Yuri has been to church several times for ministry. We pray that God's grace will continue to work in his heart and lead him to repentance.