Your Gifts Help Missionary Pastors Reach Remote Villagers in Far East Russia
Sayid Protopopov
Missionary Pastor in Far East Russia
I recently returned from another trip to the Verkhoyansk district, which is in the Yakutia-Sakha Republic in Far East Russia. This is one of farthest reaches east in all of Russia. It is one of the regions we had visited during the winter using cars, boats, and planes. Access is very difficult in these parts. People are starting to show interest and desire to learn more about the Lord Jesus, and the few believers that are there need encouragement. Here are some highlights from my latest journey: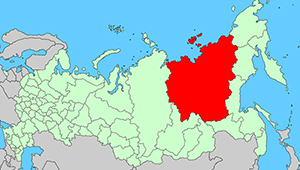 The Gospel Sprouts in a Regional Crossroads
As I set out, I went through the city of Batagai a few times because it is a regional center and is on the way to all the other towns. The church is very small because of the difficult travel. However, there are people who are starting to come regularly. The people are glad to hear from a brother who can share from the Scriptures to encourage and inspire them. It is like cool water after a drought for them because they had been without a pastor for some time.
Explaining Life After Death in Borulakh
Vasily is a man whom I had met in the hospital in the town of Borulakh during my last visit. He had lost his eyesight, and this trip I made a visit to his home. Vasily and his family were very glad that I came. They set their table for me and we had a conversation on life after death! I shared with them that whether we want it or not, our life does not end with physical death. We will all stand before our Creator. Some will face condemnation while others will enter into salvation. Please keep praying for Vasily and his wife as I continue sharing the Gospel.
Alysardakh: A Small City Where Jesus is Knocking
Alysardakh is very small—only 100 people. There's a kindergarten, a grade school, and a local community center. It takes two hours to get there by motorboat. I had opportunities to speak with people in the street and tell them of the Lord Jesus Christ, and that only through faith in Him can we receive forgiveness of our sins. There are several women there who show interest in God. We sent them literature and follow up with them. Pray they will open the door to Jesus!
The Lord allowed me to spend several days in each community. I want to visit them again because when new people are converted, much depends on the regularity of visits. So far, I have no finances, but I am thinking about the opportunity to return to these lands. We ask you to pray for this situation. We are thankful to the Lord and you for the blessings of your participation in our ministry in Yakutia.