Editor's Note: The report, stories, and images below were provided by an SGA-supported pastor in Ukraine.
Dear brothers and sisters,
The warmest greetings to you with love of the Lord Jesus Christ! Thanks for the care and for the support! We used the funds for the purchase of the groceries and for the hygienic goods which were given to the IDPs (internally displaced persons) and the needy locals.
Thanks to the IDP Relief project we were able to reach more than 50 families with more than 250 people in July. These are people of different ages and social status. They are united by the fact that they fled from hostilities to a safer place. Some started coming to Sunday services. There are also women who have started attending a Bible study group every Monday.
One woman, Tanya, who has moved [here] with her husband, repented and is getting ready for baptism. Praise God!
This is one of many stories.
Vira came from [a different Ukrainian] region. The son and his family stayed in the city. When I asked if she could talk with them on the phone, Vera replied that she could not, because the occupation authorities introduced a wiretap connection there. The woman lives in a local hostel and says that it is very good for her that she could receive the aid here. Praise God!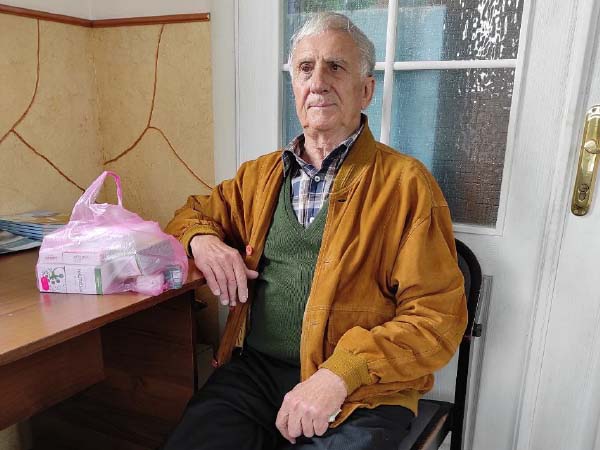 Thanks to the project, we can help people in difficult circumstances with medicine. Yaroslav is in such circumstances. Before retirement, he worked in the far north of the Soviet Union. He was a soldier and received a pension in Russia. After February 24, he stopped receiving his pension due to the war. He has kidney cancer and needs constant therapy. His story is special because last year he repented and received the Lord and was baptized in the bathtub at his home. Before that, he had a bad fever and took antibiotics and antipyretics. One day later after the baptism, he had no fever, and he even started driving a car and riding a bicycle. He has never missed Sunday services. Pray for the wife and the whole family to come to the Lord. God has a plan for His name to be glorified through Yaroslav. He is regularly examined by the doctor. Kidneys need to be supported by preventive treatment. Yaroslav is grateful for the medicine.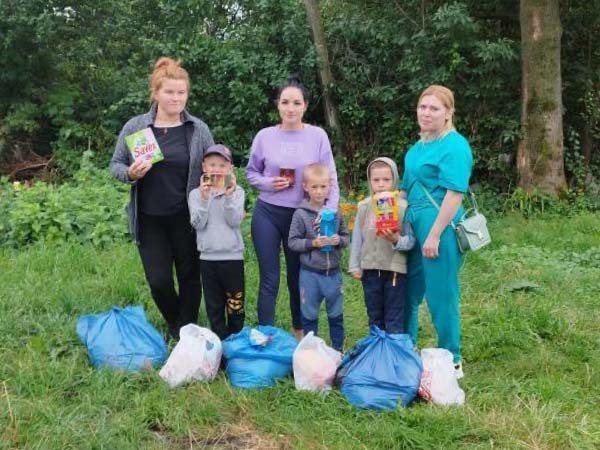 All these women have their families and each of them have two or more children. When they were children they attended the House of Prayer, Sunday school classes, and children's Christian camps. They grew up in a dysfunctional family. Their mother had a different man every day. They could watch constant quarrels, drunkenness . . . every day. The children were raised in the street. Now both their mother and all the ladies occasionally attend church services. Unfortunately, it happens on holidays, but . . . the understanding that they need to change their lives is increasing every time. At the moment, it's impossible to get a job in the village. Even men do not work. Therefore, these grocery sets and hygiene items are very necessary for them. Galya, Tanya and Diana sincerely thank SGA and donors for the care which is shown in this difficult time.
Mykola is a man with a big and kind heart! He learned about the Lord from his old grandmother who is already in eternity with God (she was a member of our church). He regularly attends church services. He himself has major health problems – he has already suffered three strokes, a heart attack, has problems with his legs, but this does not prevent him from attending the House of God! It is a pleasant surprise for us that when his friends, neighbors and even relatives sometimes invite him to have a drink, he answers them firmly: "I am going to the House of Prayer, to pray to God for myself, for our boys at the front, just leave me!" Having health problems, Mykola is unable to work as he would like. His wife is a disabled person, too. She had several surgeries. Therefore, these packages are a great support and help for this family! Pray for them to come to know the Lord as their Savior.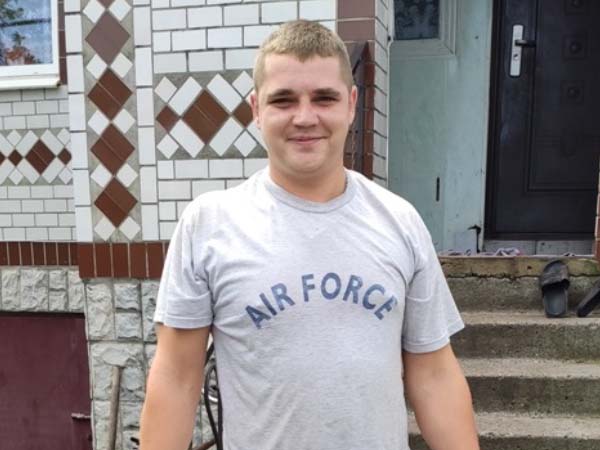 As a child, Vitaly was at Christian camps and, heard about God, but it did not become special to him. Two years ago, his father, who worked as a truck driver, did not wake up in the morning as his heart stopped beating at night. Vitaly, his brother Vasily and their mother could not come to their senses for a long time, could not believe this terrible news. After the father's death, the brothers became truck drivers. They work in the field harvesting. They haven't been to the House of Prayer yet, but with the help of these grocery sets, hygiene items, we got to know each other better, we have witnessed about the One who loves and will not leave orphans. The family is infinitely grateful for the help in this difficult time. May the Almighty reward you a hundredfold for your ministry and your care. Remember that your work is not in vain before God!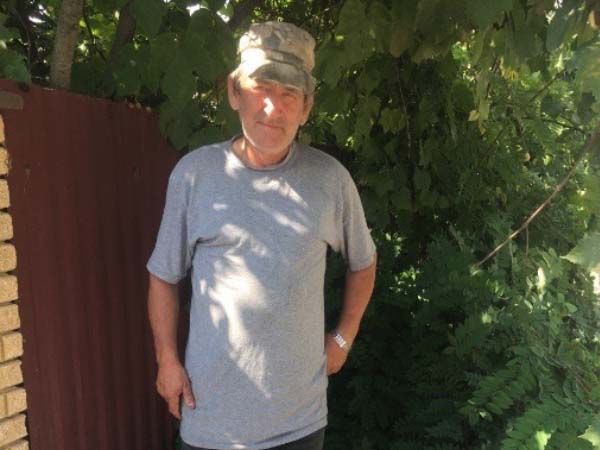 This family consists of two parents and two adult children. Daughter Masha is raising a son without a father (he left the family), and another son, Mykhailo, is at war in one of the hot spots. They live next to the House of Prayer and we have good neighborly relations with them. We decided to help the family and thank them for their son who protects us enemy. We told them about God's protection through our prayers. They are grateful for the aid and care.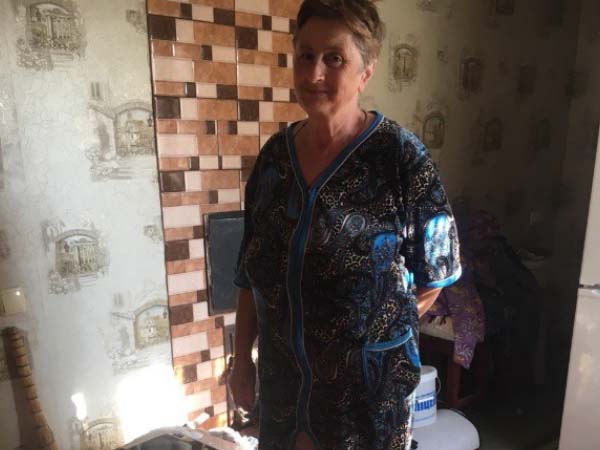 This family consists of a mother and an adult son. The woman's younger son was killed in a car accident. The family life of the eldest son did not work out, so he returned home. He went to the front to defend our Ukraine, although he was exempt from service due to his health problems and could stay at home, but he wanted to help the army. Therefore, he is in the war now. When we visited the mother and showed God's care and love for her, she cried. The son is in a hot spot in the Donetsk region, and if he dies, the woman will be left completely alone. We had a good conversation about God being over what we have no power.
This family consists of two parents and an adult daughter. Peter's father is ill with cancer, he underwent treatment and surgery. The man is not healthy enough to work. The wife goes abroad to earn the family living. We had an opportunity to help and support them in a difficult time. They are grateful for the aid and the care.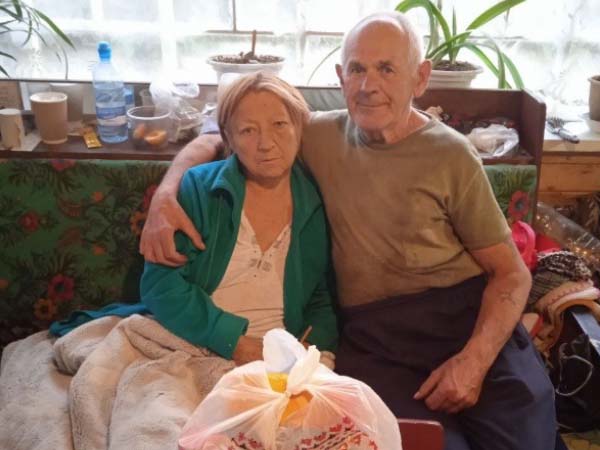 These are pensioners who live in a small village. Kateryna has a terrible disease, kidney failure. One to two times a week this married couple rents a car and goes to the regional center to the hospital for dialysis. As their pensions are too small these two pensioners are having a hard time coping with all the problems that arise in such a difficult state of war in our country. They are sincerely grateful to you, our dear donors, for the help that is very valuable and needed in such difficult times.
Olya, a forced migrant, came with her parents, her younger sister Maryna, who is 11 years old, and her three own children Yehor, Artem and Nastya. They settled in a house where no one had lived for a long time, in which there were no beds to sleep in. The local church helped them with beds. Currently, the family planted a vegetable garden to have vegetables and fruits for food. The family is very grateful for the help in such a difficult war time for our country.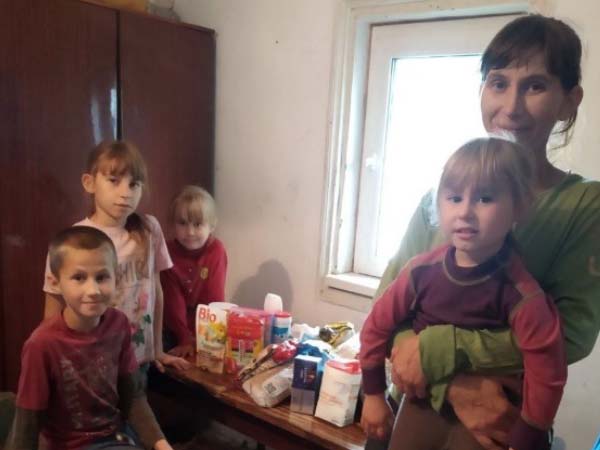 Tanya is very grateful for the aid and care, because it is very difficult for her to live at the time of the war. Tanya grew up at an orphanage. She has 4 children Vika, Sasha, Zoryana, and Bohdan, and has a husband. Unfortunately, the husband leads an immoral lifestyle, does not help Tanya with the children and does not want to provide for the family. Tanya is currently on maternity leave. Your aid is very appropriate at such a difficult time for our country and for the family.
Young mother Yana and her son Kirill, who is seven years old, fled the war. It took them three days to get here. The trip filled with fear, tears and prayers brought them to our village. Yana heard about the help that was distributed at the local Hope Church and came to meet us and ask for help. Yana is very grateful to you for your help in such a difficult and terrible military situation in our country.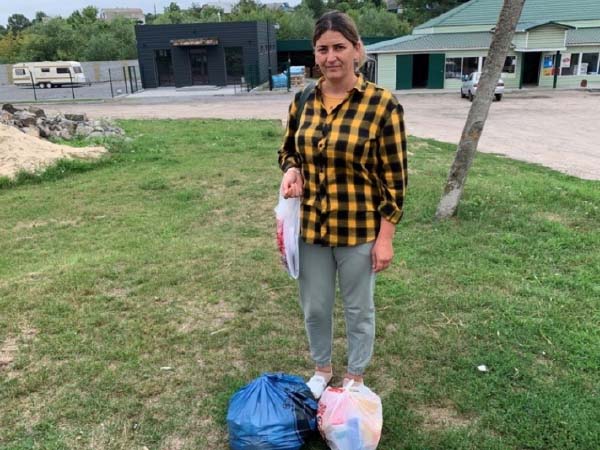 Alla and her husband have three children. Before the war, they lived in [a different Ukrainian city]. The family had been under occupation for a whole month. Daily danger and unemployment prompted the family to leave for an unoccupied part of Ukraine. The journey took several days. They were lucky to leave by their own vehicle. She is grateful for the humanitarian aid.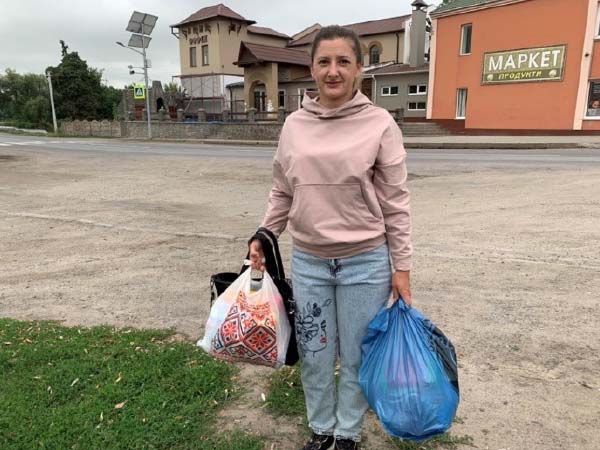 Hanna has the status of an internally displaced person. She raises a daughter and a son. Before the war, the family lived in [a different city]. They were under occupation for five days. They decided to leave home and go to an unoccupied part of the country. They do not have their own vehicle. Their neighbor invited them to go with them. They had been waiting for a permission to go at the occupiers' checkpoint for a long time. Praise God, they managed to move to the unoccupied part of Ukraine. She thanks you for the aid and care.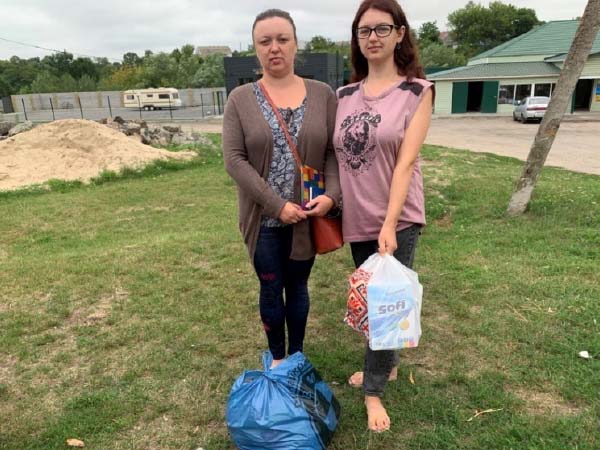 Before the war, Lidia lived in [a different Ukrainian village]. Until now, fierce battles are being fought there. Our soldiers are bravely defending the territory. Lidia and her family were under enemy occupation for five days. Due to constant shelling, the family was forced to leave their home. It took four days to get to the unoccupied part of Ukraine by own vehicle. Lydia, her parents, two children and a sister, temporarily live in [another Ukrainian village]. The family sincerely thanks for the provided humanitarian aid and the Word of God.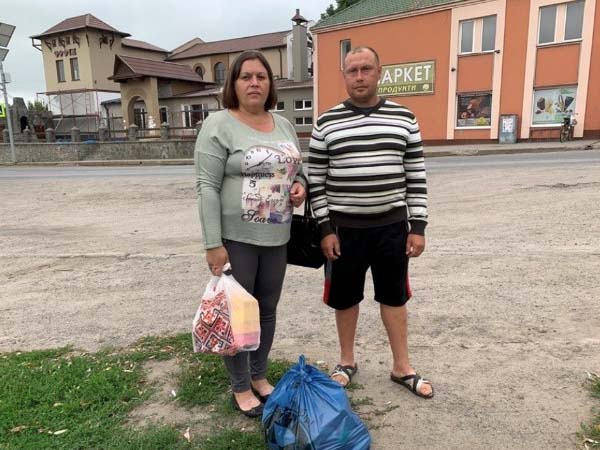 Dmytro and Viraare raising three children. The enemies did not allow the family to leave the occupation zone in their own vehicle. The family had to leave the car in the occupation zone. The family reached the unoccupied part of Ukraine by an evacuation bus. Now the family temporarily lives in [a different village]. The family sincerely thanks for the humanitarian aid and care.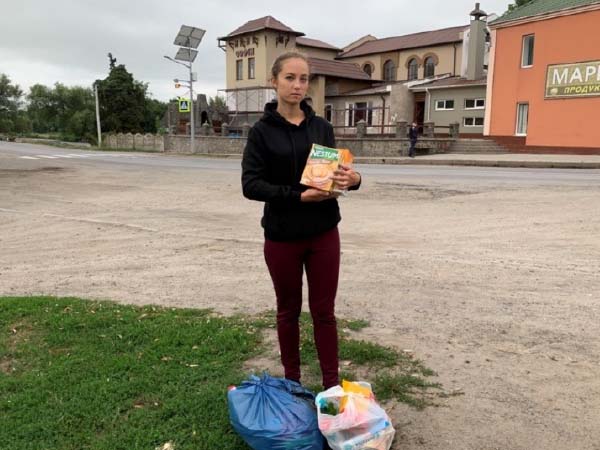 Before the war, Snizhana and her five-year-old son lived in [a different Ukrainian city]. A few days later, from the beginning of the war, the enemy occupied the city. Many people began to leave their homes and move to the unoccupied part of Ukraine. Snizhana decided to leave her native home, too. The enemies provided a two-hour green corridor to leave the city in the direction of the unoccupied part of Ukraine. Neighbors took Snizhana and the child into their car and helped them come to a safe area. Now Snizhana and her child temporarily live in [a different village].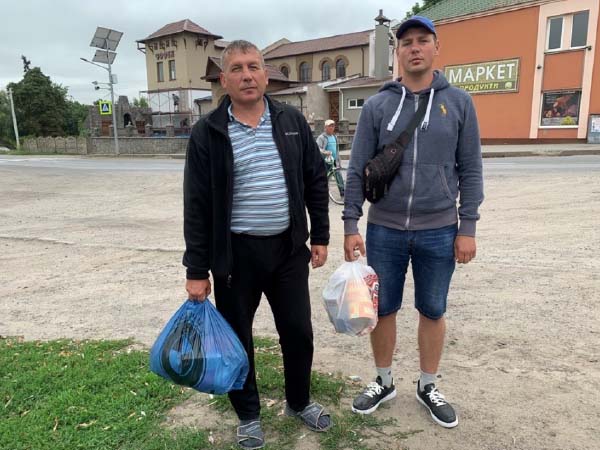 Gennady, his wife, his son, and elderly parents lived in [a different region in Ukraine]. They were under occupation until June 28. Unemployment and lack of money prompted the family to leave their native town. The family does not have their own vehicle. There were no more evacuation buses from the Kherson region because they were blocked by the occupiers. There was only one way out: to negotiate with private carriers, who set the condition of paying 5,500 hryvnias per person for crossing the enemy checkpoint. There was no choice. Almost all savings were spent on the tickets. They thank you for the aid. We presented them with the New Testament.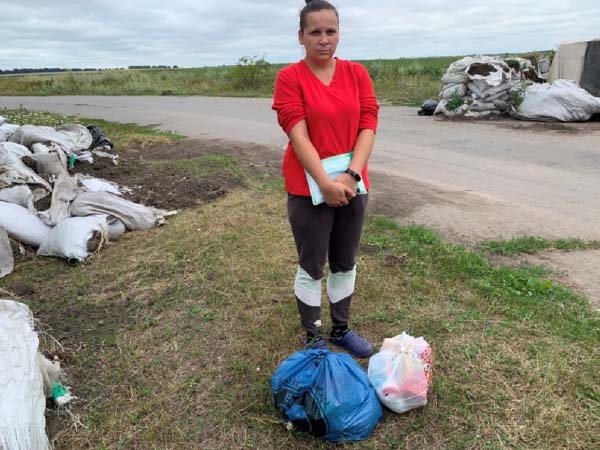 Olena, her husband, and two children lived in [a different Ukrainian region]. In the spring, the enemies began massively shelling the city with heavy artillery. The authorities have started a mandatory evacuation. The family was taken out of the shelling zone by an evacuation bus. Olena received the Word of God, food and hygiene products as a gift. She thanked us for the aid and care.
This family lives in the village. The family consists of father Oleg, mother Lesya and two sons. The mother does not work anywhere; she works in the garden and runs the house. The whole family attends church services. The mother and the son received a grocery package and a bag with detergents from us. Great joy was seen in their eyes. They were grateful for the care. May the Lord be glorified through the ministry!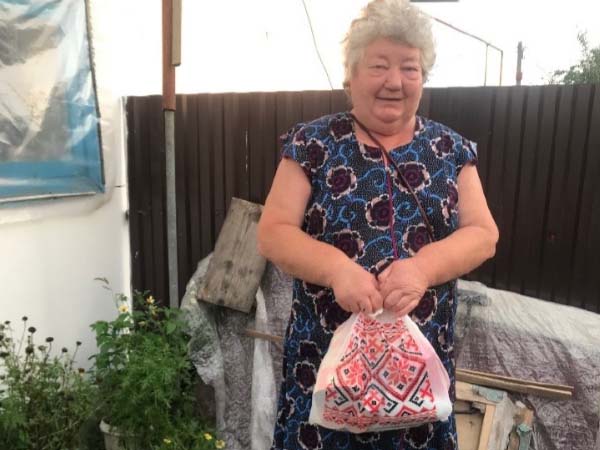 This woman's name is Natalia. She lives with her husband, who suffers from serious disease. He has cancer. A lot of money is spent on treatment and medicine. They accepted the aid with gratitude and with great joy and tears. Some time ago Natalia attended church services, and promised to come again. Please pray for Natalia, her husband, and for them to repent and accept the Lord in their hearts.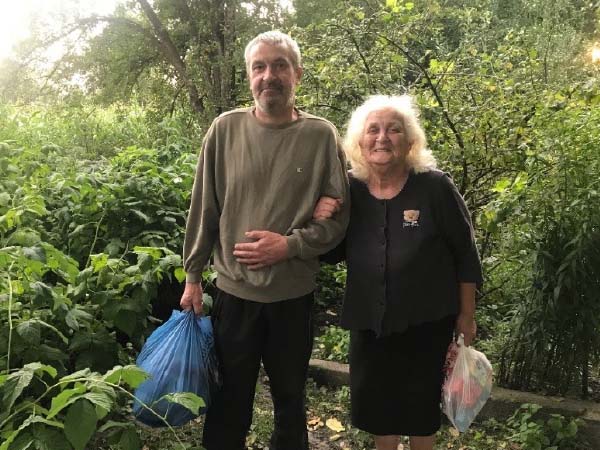 Sergei, who is already about 50 years old, lives with his mother. The son does not work, but he drinks. There was the time when Sergey came to home groups and, attended services several times. The grocery set and the detergents are very important for the family, because the only income is the mother's pension. We invited them to attend church services. We should pray for them, and God is the One who knows the time and the place.
We are grateful to you for your work, through which we can serve people! May the Lord give strength and courage to serve for the expansion of His Kingdom!
May God bless you in His mighty ways!
In His service,
Oleg and the team
***
In a time of great uncertainty, God is bringing help, healing, and hope to the people of Ukraine through SGA-supported pastors, churches, a seminary, and SGA-sponsored Compassion Ministry. Be a part of God's incredible work with your generosity and prayer support.
Your gift of compassion helps struggling people with emergency aid that generally includes Scripture materials, food, medicine, warm clothing, and shoes.