Your support for SGA-sponsored Compassion Ministry is making a difference for many lives!
Report from Pastor Dmitri in Ukraine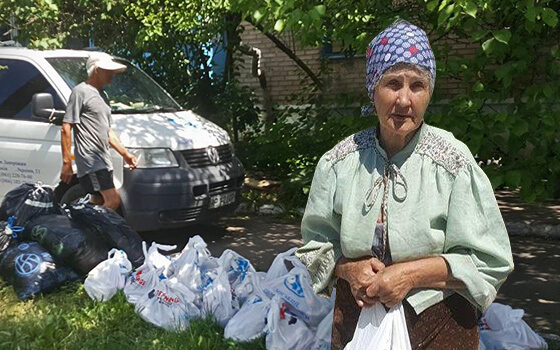 We thank God for your support in providing food assistance to conflict-affected families in eastern Ukraine—specifically the Donbas region where the fighting continues.
Over the last three months, we have been carefully distributing food parcels to needy families and individuals who have no other means of support. We visited Andeevka, Pervomaiskoe, Kamianka (near Andeevka) and Opytnoe. The situation has seemed less tense in this short period during harvest and when school is supposed to begin. But the people are still living in stress. For those who have chosen not to leave, the need for essentials continues to be urgent. The people are very thankful to all who remembered their needs. We are also gaining more and more helpers from the local able-bodied population. Brothers in the Andeevka church have helped in ministering to small villages, settlements, and bed-ridden elderly citizens. In Kamianka, people have been faithful in coming out to gatherings where we read God's Word. Many at first seemed to stop by out of curiosity, then have become more open and more thirsty for the Truth.
Please keep praying for many to come to faith in Christ, and for efforts to plant a new church in the region. Pray for God's provision for the great needs, and for the safety of our teams as they travel and share the love of Christ.