Your gifts provided help in time of need
SGA-Sponsored Orphans Reborn Team
Smolensk, Russia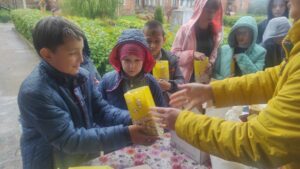 The situation with COVID-19 is still critical and we have not been able to directly visit orphanages with Bible lessons here in Smolensk. While it was not too cold, we could have some outdoor activities. We made popcorn, played games, and sang songs. Once it began to rain when we were out together with the children. But even bad weather did not spoil our picnic. We became even closer because we had to hide from the rain under a roof, we had very close fellowship and could give hugs to each other.
Once we had a call from the orphanage in a nearby town. They asked if we could help to buy a vacuum cleaner as their only one had broken. So many bedrooms, halls, and corridors to clean, and no vacuum cleaner! We bought a big professional model for them, and hope it will be useful and helpful. It has now become cold outside and it is important that it is warm in the children's bedrooms. In one of the orphanages, the radiators broke. And it was urgent to get them fixed. The state could put them in a waiting line for repairs but the problem was urgent. The orphanage asked if we could help. We did and changed the radiators.
We continue our ministry in a local special school for orphan graduates. It is not forbidden to hold Bible lessons there and we do every week. We also try to help with medicine and hygiene items. It is so good to continue fellowship with the graduates.
One of them, a young man named Yuri, came to church for the Harvest Celebration with his wife Natasha and their child. Natasha said that she was crying during the whole worship service, because everything touched her heart so much. They liked the singing and the sermons a lot. After the worship service Ivan invited them to his home. They talked during the evening till the late night. Yuri and his family stayed with Ivan and his family for the night and had good fellowship.
Pray with us for the time to come when we can have regular Bible lessons in the orphanages again. We pray for these children and ask God to work in their hearts!