The Lord used your support for biblical education as part of an amazing journey!
Sergei Alexeev
Irpen Biblical Seminary Student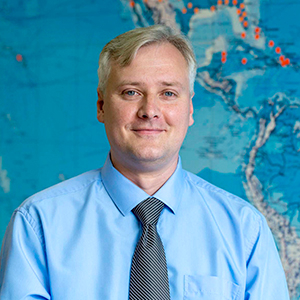 I live in the city of Lugansk, which is in the war zone in eastern Ukraine. When the war broke out in 2014, my family moved to the Kiev region near Irpen Seminary, but in 2019 we went back to Lugansk as our family, friends and church are there.
When I was young, my mother was having some life difficulties, so she made a vow to God in front of a priest. When the Lord solved her problems, she woke up one morning and she felt a voice in her soul saying, "I did all that you asked for, why don't you go and repent?" Traditionally, all of us were Orthodox, but she didn't know that a Christian lady who lived next door was going to a Baptist church. One day, she said to this lady, "I made this promise to God and I need to go to the church, so let's go together." They both got on the bus, and they came to where a Baptist church was, and that is how she was introduced to evangelicals. She came to saving faith in Christ, and that is when she started taking us to Sunday school.
Finding Living Water in God's Word
As kids, we had been taught that only priests could read the Bible, and we believed that Christians were special people. Christian kids were like angels to us. We had reverence for the Bible even though we never read it. So when we started coming to Sunday school, they would open it and read it in front of us. We were small kids, and we would come to a minister and touch his garment because we believed we were touching a holy thing and that we would be sanctified by that. But instead, the pastor continued to sanctify us by God's Word, and His Word was working in our hearts.
When I was 13, I went to a church youth group. My mother gave me an instruction – she said to "be lower than the grass and quieter than the water. Be very attentive to what you hear!" We had believed that we could not approach God because we are sinful and need a priest to be a mediator. But through God's Word, the teacher showed us that Jesus Christ was the only mediator between God and man. These people were not standing between us and God, but were instead bringing us to God so that we would have direct fellowship with Him.
Finding the Fountain of Life
On November 21, 1993, when I was 13 years old, I went to a meeting where the pastor opened the Psalms and said that God was worthy of praise and that we need to glorify Him. That day, I learned about God's greatness and the right way to glorify Him. The pastor called us to glorify God. I asked His forgiveness for not meeting His standards. I just praised Him for the greatness I saw in the book of Psalms, and I thanked Him because He is my Lord. The prayer ended, and the pastor took me by the shoulder. He asked me, "Do you know what just happened?" I was terrified because I thought I did something wrong in my prayer. The pastor told me to follow him, and we walked into the sanctuary. He said to the church, "Brothers and sisters, this dear soul just confessed that Jesus is his Lord and Savior!" The church said, "Hallelujah!" When I turned 21, I was baptized.
In time, I became the youth leader in the church, got married and started a family. I always dreamed of studying, and my difficult life circumstances brought me close to Irpen Biblical Seminary where the Lord allowed me to study in the pastoral program. In 2019, we went back to Lugansk as my wife and I realized that God was calling us back to the war zone to serve there. But Dr. Igor Yaremchuk had invited me to continue my studies in biblical counseling. When I got the invitation, my wife said that it wasn't fair for me to go back to Irpen while they stayed in Lugansk. She asked me why I thought it was God's will, and I asked her how we could know? She replied that if someone calls from the seminary and says that it is either like air for the lungs or water for fish, then we will know it is from God.
God's Unmistakable Sign
I saw my wife was not ready, so I refused the tickets, but then Igor called and asked if I was coming. I told him that we have many issues and difficulties, and did not have complete agreement in the family. Igor asked if he could talk to my wife. Later, she told me that Igor literally said, "Since your husband is doing ministry, it is needed like air for the lungs and water for fish!" He also told her that the seminary would help as much as possible so that the period of separation would be easier. So we agreed that I would come there for a session and then return home. I am thankful for God's hand at work in our lives!