We hope you never tire of reading how the body of Christ in Ukraine continues responding to the urgent needs of the people. Seeing Romans 12:10-12 lived out in a time of ongoing war is a blessing and an encouragement to all believers the world over.
"Be devoted to one another in brotherly love; give preference to one another in honor; not lagging behind in diligence, fervent in spirit, serving the Lord; rejoicing in hope, persevering in tribulation, devoted to prayer, contributing to the needs of the saints, practicing hospitality."
As you read a recent report below from an SGA-supported pastor in Ukraine, please pray for this congregation as it continues to serve the Lord by serving others. "We as believers have to support and help those in need," the pastor says. May God continue to equip and empower them and other churches through the generosity and prayer support of caring friends like you!
The pastor writes . . .
[Our church] has been actively involved in serving people who have suffered losses since the beginning of the war. The church is also serving the poor, families with many children, as well as widows and single people. During the war, many people lost their homes, jobs and health. At such a difficult time, we as believers have to support and help those in need.

The church has about 250 members. Many IDPs [internally displaced persons] attend the church. Some of them have already become church members by being baptized. There are also those who became members by being transferred from other churches because they were forced to leave due to the war.

At the beginning of the full-scale invasion, we hosted IDPs on the church's territory. Later we helped them with finding housing. We support them with basic necessities (food packages, medicines, hygiene products). We formed several small groups of IDPs. We involve them in the life of the church. We involve children and teenagers in Sunday school. We preach the Gospel. We also deliver aid to cities in the northern, southern and eastern parts of our country. We pray for peace.

We thank God for the opportunity to serve people and thereby witness to the Gospel.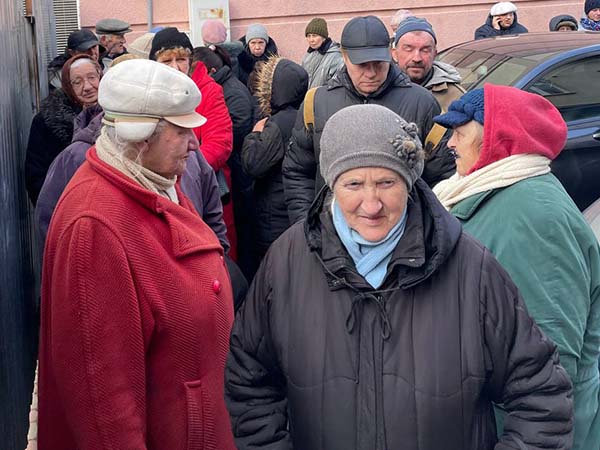 In a time of great uncertainty, God is bringing help, healing, and hope to the people of Ukraine through SGA-supported pastors, churches, a seminary, and SGA-sponsored Compassion Ministry. Be a part of God's incredible work with your generosity and prayer support.
Your gift of compassion helps struggling people with emergency aid that generally includes Scripture materials, food, medicine, warm clothing, and shoes.