As you can see in the video and images below that were recently provided by an SGA-supported pastor in Ukraine, before a bag of food aid is ever delivered the people are challenged by the Good News of Jesus Christ. This is why it is vital that SGA-provided aid be distributed through these local churches—so that God will be glorified in His church and through our ministry.
The Gospel is going forth, and we are grateful for the generous gifts and prayers of friends like you who support this life-changing work! Read more, watch and listen . . .
 Greetings dear friends in the Lord from the Spring of Life Church, Zaporizhzhia region! Here are some pictures and a video from the meeting with the IDPs [internally displaced persons] in Zaporizhzhia region.
Translation:
Preaching
"We preach the Word of God for you so that people may know about salvation. That is why Christ came to earth—to die for our sins and rise again for our justification and redemption. Christ has fulfilled His mission. That's why we invite you to come to this church service so that you could hear about the Lord. If any of you do not have the Gospel, if you do not read it, then you cannot know the true meaning of being a Christian. Who is a Christian? A good person? An honest, decent person? But Christ came to die not for a good and decent person, but for a sinner. You probably take the Bible very casually. I used to have the same attitude a long time ago. I opened the Bible, thumbed through it, and closed it again. And so on several times, and that's it, and then the Bible lies in some inaccessible place… How many of you do this, tell me honestly . . ."
Singing
"I pray for Ukraine, my God! I believe that Your mercy will help people. It is not in magnificent palaces where freedom flourishes. Ukraine's destiny lies in prayer with God! Let us quietly kneel in prayer, so that a free Ukraine may smile at the world. And my prayer will break the chains, and there will be Christians in Ukraine . . ."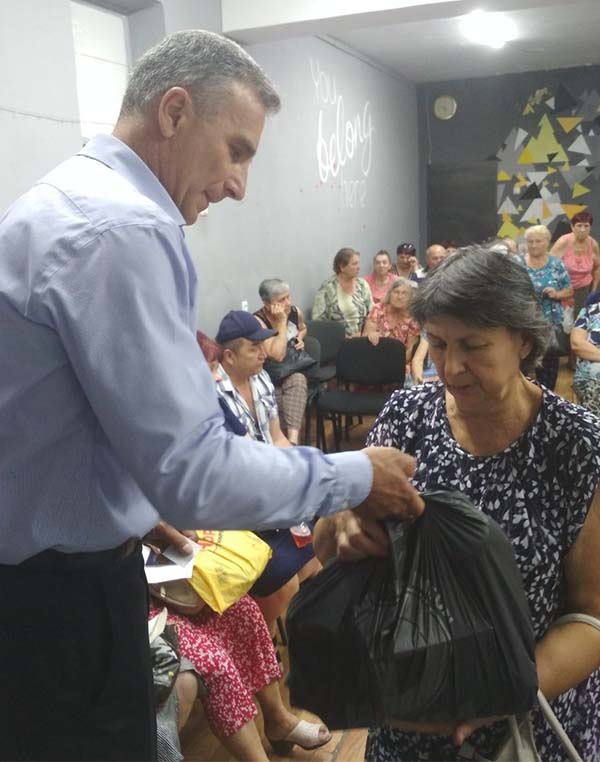 ---
In a time of great uncertainty, God is bringing help, healing, and hope to the people of Ukraine through SGA-supported pastors, churches, a seminary, and SGA-sponsored Compassion Ministry. Be a part of God's incredible work with your generosity and prayer support.
Your gift of compassion helps struggling people with emergency aid that generally includes Scripture materials, food, medicine, warm clothing, and shoes.